One outcome of the global travel and commercial lockdown has been an abundance – some might say overabundance – of webinars. We at Arival have produced more than 30 in the last two and half months, mostly free, to help you – our community of tour, activity and attraction operators – weather this incredibly difficult time. We've had over 15,000 attendees, and we're grateful for that interest from the in-destination industry.
But webinars only go so far. They can be great vehicles for content and online learning, but they offer limited attendee interaction (e.g. chat, speaker Q&A, polling) and no networking. It's the networking around great content that makes attending in-person conferences so valuable. 
On June 25 we are launching our first virtual conference, Walking the Tightrope between Safe & Amazing, focused on the topic of reopening and revival. Why this topic? We had started to plan one of our regular webinars, and we quickly realized that this was a much bigger and complex topic, and we found operators had many, many questions:
How do you restart a business?

What are operating standards and protocols for safety?

How do you adjust your tours and experiences?

How do you restart marketing?

How do you turn a profit when running at 30% capacity?
This is really uncharted territory for our entire industry, and many operators are struggling with these very issues. So we felt this urgently needed a dedicated event to support operators.
But what exactly is a virtual conference? Well, for starters, it ain't just another freakin' webinar. Here's what we're doing, how we're doing it, and how it will be different from webinars.
A full-day event: our virtual summit will run almost a full day, with a conference-like schedule mixing content and networking. You can see the agenda here.  
Hear from operators already open, and those who aren't: we have several sessions with operators who have reopened, and some who haven't, to share what they are learning, and to discuss the decisions they have made and why. 
I'm especially excited to have Roger Germann, CEO of the Florida Aquarium, as one of the first keynotes. The Florida Aquarium was one of the first large attractions in the U.S. to reopen (they opened May 15). He'll share six weeks of learnings on what it's been like to welcome back guests.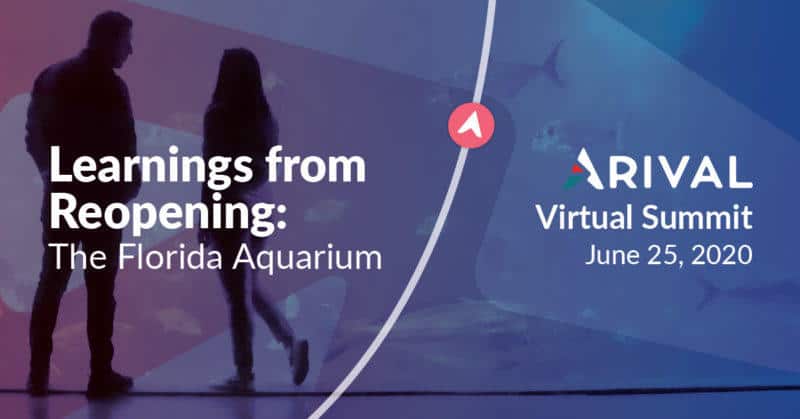 Short and varied program (think TV): I don't know too many people who want to sit in front of their computer screen all day and watch webinars. (I certainly don't.) We've purposely designed our program that mixes six short content sessions (think TV, not webinars), intermixed with structured networking opportunities.
Virtual networking, for real: This is the hardest and most important part of an online conference. We are approaching networking in three ways.
Themed roundtables:

these are scheduled, moderated online roundtables on specific topics (e.g. health and safety, marketing, working with OTAs, etc.). Think of these as those lunch-table topics at in-person conferences, where you can sit at a table over lunch to discuss a specific topic with others. Our roundtables are 40 minutes and limited to 10 people. Each will be moderated by a topic expert. Pre-registration is required. We will be announcing them all soon. 

One-on-one expert consults

: we have been developing a network of industry experts to be available for multiple, 20-minute one-on-one consulting sessions with attendees. For tour and attraction attendees, this is an opportunity for you to get advice on specific issues or challenges you are having. (Our experts are not permitted to pitch for business.)

Independent Networking:

our platform enables attendees to conduct one-on-one meetings individually, both pre-scheduled and "on the fly." You will be able to request and activity a live one-on-one video call directly within the conference platform. For example, you could request a meeting with any of our attendees when browsing profiles, or "drop by" a booth of one of our virtual sponsors.
How do you do virtual serendipity?
One of the best things about our in-person conferences is the wonderful serendipity of networking. We design our networking lounge at our events specifically to achieve this – to enable magical, unexpected moments. So how do you do this online?
Spontaneity in a virtual setting will certainly be different, but we believe it can happen. In some ways, it can be better.  One great feature of virtual conferencing platforms is the ability to request and do meetings on the fly. If you see someone making an interesting comment in a discussion forum during a content session, you can instantly find that person and request a meeting. Have you ever tried to find someone in a crowded meeting spot if you don't know what they look like ("Excuse me, are you Matt?"). 
Another way to enable online networking is through personalized meeting recommendations. Our platform uses A.I. to generate these for each attendee who wants them. To get the most from this, attendees need to make their own profiles as rich as possible. So if you plan to attend, take the time to develop your profile. It will pay off in spades.
What should we charge?
We've run a lot of webinars, and most have been free. But for our virtual summit, we have to charge something. We have hard expenses to cover, and like most others in the travel and events industry, we are not flush with lots of cash to burn. Our pricing for the virtual summit began at $149 for tour, activity and attraction operators, and $198 for all others. 
However, as we know everyone in tours, activities, and attractions has been hit very hard by the travel lockdown, we have decided to make the Arival Virtual Summit free to all tour, activity and attraction operators. Operators can register here with this code: EADVS625. All distributors, tech companies, marketing agencies, and other service providers may register for $49 using the same code. If you are a registered attendee of our postponed Berlin or Bangkok events, you can register for free. Your reg code is in your email inbox. If you haven't received it, please email us at [email protected]).
Will virtual replace in-person? 
This question has been asked ever since online meetings became possible, and now with greater urgency since the pandemic. But this is the wrong question.
Virtual is not about replacing; it never was. It's about extending. It's about making the core business benefits of a conference accessible to the many more operators who are not able to attend. It's about enabling the millions of people around the world who work in tours, activities, and attractions to learn, to grow their business, find new partners, advance their careers, and make new connections.
Virtual conferencing makes the learning and networking available on-demand, from your home or office, throughout the year. It can improve certain aspects, by making networking and learning much more targeted and efficient. It's also much less expensive, especially taking into account travel expenses.
We are on a mission to help operators around the world grow and succeed. We've always believed that distance, time, and expense should not be obstacles to growth and learning. We are excited to see this first Arival virtual summit come together and to make Arival accessible to all operators, small and large, wherever you are. 
We hope to see you soon, online and in-person!