While freediving off the North Shore of Oahu, Ocean Ramsey reaches for the fin of a 17-foot great white shark. She doesn't panic. Instead, she calmly glides alongside the giant predator before swimming back to the surface and doing it all over again. Ramsey isn't stranded, nor is she distressed. She loves swimming with sharks, and if Instagram is any barometer, her fans and followers love seeing Ramsey in her element too.
As an ocean conservationist and the co-owner of One Ocean Diving, Ramsey has swum with more than 32 different shark species, and many of these encounters have been showcased on her Instagram account, @OceanRamsey and One Ocean's Instagram, @OneOceanDiving. One Ocean is one of few companies that offer cage-less shark snorkels while allowing clients to interact with sharks and learn about their complex behaviors from a marine biologist.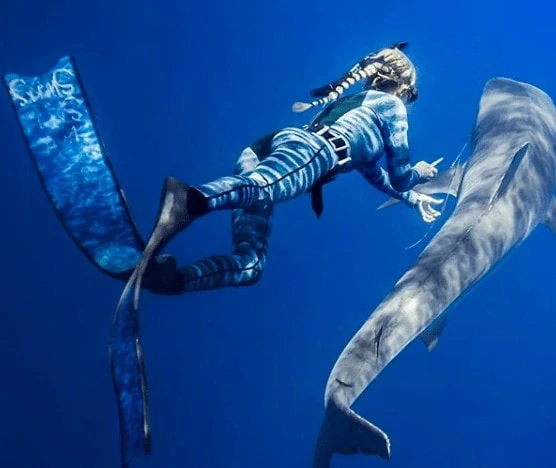 One Ocean Diving's Instagram account was started in April of 2014. With the help of co-founder Juan Oliphant and One Ocean's staff, a defined mission statement and a consistent posting schedule, One Ocean's Instagram has grown to more than 253,000  followers to date. We sit down with Ramsey to discuss One Ocean's secrets to Insta-fame, and find out how the tour operator's success has impacted business.
Arival: Describe your Instagram posting strategy, frequency and style.
Ocean Ramsey: We share four posts daily on our main Instagram account, @OneOceanDiving. We usually aim for at least one feature or a repost from a recent customer. We do this to encourage participants to use their social media and share what sharks are really like with their community.
Our research interns post daily on various aspects of shark biology, physiology and behavior, which are extensively researched and include citations from various scientific journals and studies. Research interns are also responsible for pulling behavior clips and shark IDs from video footage, which we record on a daily basis for our research as well.
We also share unique and specialty media, specific campaigns, petitions, news and ideas throughout all our Instagram accounts as well as making it easy for people to get involved in conservation efforts. One example is @OneOceanConservation, which promotes everything from our beach clean ups, campaigns and events to ways that our followers can make an impact in their daily life.
What percentage of your sales come from social media?
Instagram has had a major impact on our ability to reach a broader audience and promote our business. It's difficult to put an exact number on the percentage of sales that are a result of our social media, but we would estimate at least 50 percent originate from social, 20 percent from SEO and 30 percent simply come from word of mouth. All of these sales can lead back to social media, most likely.
Which kind of posts tend to perform the best?
We tend to get the best response from photos that show people in the water interacting with marine life. A picture is worth a thousand words and transcends language barriers. Showing people peacefully interacting with sharks and the ocean seems to fascinate people of all backgrounds. With so many myths and misconceptions about sharks, many people are surprised to see humans and sharks co-existing and are intrigued as to how it's possible.
What advice do you have for businesses who are not getting likes, comments and follows?
For businesses that are having trouble engaging their customers, we would recommend making an effort to post regularly, including relevant hashtags, and trying to cater their message to their target audience. Be sure to:
Use beautiful images that capture people's attention and help them to visualize a connection or action.
Offer meaningful content and captions.
Let your passion guide your work and shine through—authenticity shows, and people respond better to it.
We would advise companies seeking success to look beyond the bottom line of business and into the bigger picture of how you, your business or your cause can make a greater impact. Let this be your guide to true success.