Las Vegas is home to plenty of activities that attract groups: a world-class food scene, gambling and a slew of theatrical performances. One of Sin City's larger-than-life entertainment options is Dig This, an activity where regular folks can operate heavy equipment such as bulldozers and excavators. We spoke to Dig This CEO Ed Mumm to learn more about his unique fun factory, how he attracts group bookings, and how word of mouth is critical to the success of his business.
What Dig This Does in Las Vegas

It all started when Mumm was building a house in Colorado. "I did all the excavating for my property, and I'd never been on before," he said. "Two hours after being on that machine, I thought there might be other people who wanted to do it." 
He and his wife Michelle opened a Steamboat Springs, Colo. location in 2007 before moving operations to Las Vegas in 2011. With 10 excavators, two bulldozers and two skid steer locators, there's plenty of equipment and ample activities to participate in, including digging trenches, building tire pyramids and playing a modified version of basketball using excavators. In a city that loves a spectacle, Dig This fits right in. 
Groups Love to Play Around at Dig This

You probably wouldn't put an 8-year-old behind the wheel of a sports car, but Dig This allows kids to handle a mini excavator with the proper training. In fact, Dig This attracts people of all ages, and all types of groups. "It's everybody," Mumm said. "Parties, bachelor parties, corporate events and anywhere there's a group. There's no defined group that we deal with. It's across the board."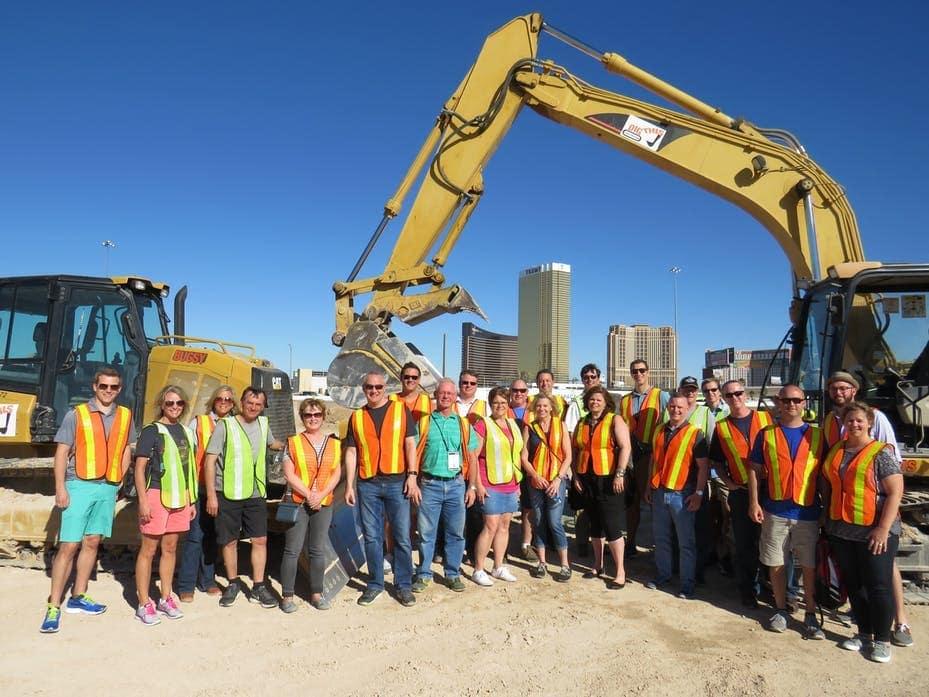 No matter the type of group, ensuring participants have a good time is paramount. Considering there can be up to 100 people in a group, the challenge is making sure everyone has fun. Flexibility in the type of experience the group receives is important. "We can totally rearrange our activities in order to suit the group's time restraints and the size of the group," Mumm said. "Our instructors are adept as far as changing their technique to suit someone learning slower or faster." 
Dig This is able to ensure everyone in the group enjoys themselves for two major reasons. "The key to all of this is having instructors with good people skills in order to get the group going fast and efficiently, as well as enjoying the experience," Mumm noted. "The second part is having good communications so the instructor can, from a safe distance, effectively instruct customers." For Dig This, that means hands-free headsets so that the instructors and members of the group can communicate.
Fostering friendly competition is also a fundamental part of entertaining the group. "The activities we designed are a challenge, but it's all about progress as the group goes through the activity," Mumm explained. "Their hand-eye coordination gets better and better. We progress the activity so it keeps getting more intense to give them a challenge, and to give them a huge sense of achievement as they go through as well." Making sure every individual in the group leaves feeling good is also paramount to the experience. For example, a group outing will typically end with "excavator basketball," where participants use a bulldozer to slam a basketball through a huge tire—an activity that (we hope) can only be done within the confines of Dig This's facility. "It takes a lot of finesse," he said. "And customers leave feeling successful that they operated a 20-ton piece of equipment."
How Dig This Attracts Group Bookings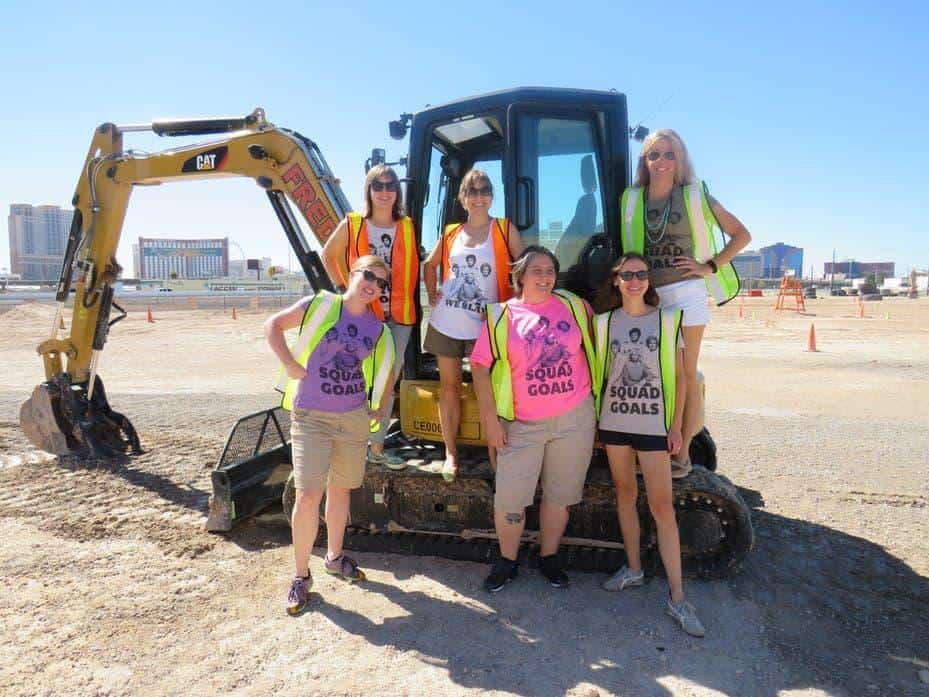 Online travel agents (OTAs) are essential to entice group bookings. "A lot of people look up places online before they commit to a booking," Mumm said. "Being number one on TripAdvisor in our category in Las Vegas really helps as well." Perhaps partly due to the plethora of positive reviews of his business, he said that TripAdvisor is the OTA most responsible for bookings, though he also relates that Yelp, Google, group travel companies and incentive companies drive bookings. Destination management companies (DMCs) are among the other third-party sources that Dig This uses.
Mumm estimates OTAs are responsible for about 40% of his bookings, with word of mouth responsible for the other 60%. "If you've got a really nice experience and you put in 100% so that people have a good time, people will go home and talk about," he said. "You just gotta put on a bloody good show. That's all there is to it."