Overtourism was putting tremendous strain on urban centers and points of interest. Many cities and attractions were looking closely at managing visitor flows. Ironically, as travel returns, attractions' responsibility to manage visitor flows will be more important than ever to ensure the safest experience possible.
Authorities are already imposing capacity constraints. Social distancing is becoming commonplace wherever people go. Innovative solutions are needed to meet those requirements and balance lower visitor volumes with the financial needs of the attraction.
Attractions are decades behind hotels and airlines when it comes to implementing dynamic pricing. Just 5% of attractions change pricing more frequently than on a seasonal basis, and more than half don't even do it every year (see figure). The reemergence of tourism as the pandemic recedes will come with significant fluctuations in demand. To manage this reality in a financially viable way, attractions should accelerate efforts to implement dynamic pricing strategies.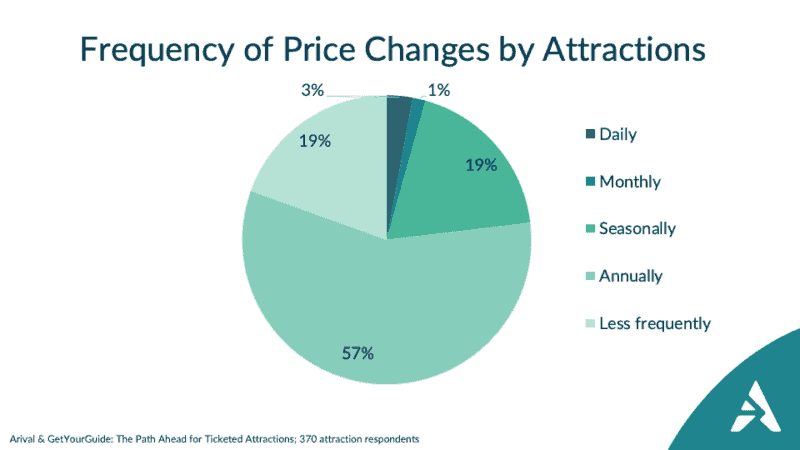 Attraction Takeaway: The Tech for Overtourism Will Power Safe Tourism
The tools and techniques attractions were exploring to address overtourism can also be applied in a world of safe tourism. Three innovations can help attractions manage visitation to ensure social distancing and comply with government hygiene and safety guidelines:
Timed ticketing and entry
Inventory control
Visitor flow management
Attractions should also be exploring dynamic pricing tools to increase yields during this period of capacity constraints and depressed revenue. Public and not-for-profit institutions that may have restrictions on variable pricing may still want to consider alternative, higher-yield experiences or products for visitors willing to spend more.
To learn more about how attractions can adapt to dramatically changed marketplace, get your free copy of the Arival report in partnership with GetYourGuide, the Path Ahead for Ticketed Attractions.