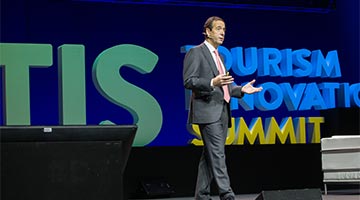 Join Us At
Arival @ TIS: Tourism Innovation Summit
TIS – Tourism Innovation Summit aims to help the tourism and travel industry face all those short and long-term challenges. Seville will again host three days of disruptive masterclasses where success stories of travel are going on stage. Digitalization and innovation will be the main discussion. A wide variety of technologies will be showcased in order to help tourism businesses become more competitive and, more importantly, restart the new ways of travel.
INSIDER PRO ACCESS MEMBERS ARE INVITED TO JOIN US FOR FREE! LOGIN AND VISIT THE SPECIAL OFFERS PAGE TO GET A FREE GOLD PASS (€795 VALUE).
As travel re-emerges, creators and sellers of tours, activities, and attractions must re-imagine their experiences for a new future. In this special TIS forum produced by Arival, we delve into the biggest trends and challenges shaping travel's third-largest sector: tours, activities and attractions.
INSIDER PRO ACCESS MEMBERS ARE INVITED TO JOIN US FOR FREE!
LOGIN AND VISIT THE SPECIAL OFFERS PAGE TO GET A FREE GOLD PASS (€795 VALUE).
INSIDER FREE MEMBERS RECEIVE 50% OFF A SILVER OR GOLD PASS BY LOGGING IN AND VISITING THE SPECIAL OFFERS PAGE.
NOT A PRO ACCESS MEMBER YET? JOIN NOW FOR OFFERS LIKE THIS AND MORE!
Key Trends in Experiences
Douglas Quinby, CEO, Arival
Exclusive new research from Arival and Phocuswright will walk through the big consumer shifts in travel experiences, covering key trends among U.S. and European travelers in what they want, how they find and book, and what the travel industry needs to know about the future of tours, activities and attractions.
Fireside Chat with Enrique Ybarra of City Sightseeing
Douglas Quinby, CEO, Arival
Enrique Ybarra, CEO, City Sightseeing Worldwide
We'll sit down with the CEO of one the few global day tour brands to discuss everything about the future of tours, experiences and destinations. From the future of tours, the role of brands, the shift in consumer preferences, the impact of tourism on cities, what our industry needs to do to become more sustainable, the impact of digital, the future of distribution… plus audience questions.
Revival or Recession? Key Trends in Experiences
Douglas Quinby, CEO, Arival
David Schelp, CEO, TurboPass
Enrique Espinel, COO, Civitatis
Jose Adell, CEO, Grupo Julia
Toni Bennasar, Regional Manager Spain and Portugal, GetYourGuide
This session explores what's next in travel experiences as travel and tourism confront the prospect of a global downturn. Industry leaders will discuss how traveler habits are changing and what operators and distributors in tours and attractions must do to prepare for 2023.
Experiences & Retailing: the Future of Selling Tours & Activities
Douglas Quinby, CEO, Arival
Cyra Alcock, Business Development, City Experiences | Walks | Devour
Carmen Morosan, Product Manager Excursions and Activities, TUI Musement
Peter Syme, MD, 1000 Mile Journey
This roundtable will delve into key trends marketing, distribution and retailing of tours, activities and travel experiences. We'll explore shifts in what travelers want, how they are finding and booking experiences, the rise of the creator economy, and how operators and distributors need to think about product positioning, marketing and branding.
How the Creator Economy Will Change Travel Experiences
Douglas Quinby, CEO, Arival
Raquella Raiz, Cofounder & CMO, Cray
TikTok, Instagram and the rising world of influencer marketing is reshaping the customer acquisition funnel. This talk from short-form video platform Cray explores the impact of content creators on the future of travel experiences and discovery.
Niche OTAs: The Rise of Specialty Marketplaces in Experiences
Douglas Quinby, CEO, Arival
Sergio Sanchez , Chief Product Officer, Boddy
Diana Isac, Founder & CEO, Winerst
There are hundreds of online travel agencies (OTAs) focused on tours and activities. Many focus on a particular segment, from attraction tickets and food to hiking, biking, surfing and more – much more. This roundtable explores the customer and operator needs left unmet by generalist OTAs, and makes the case for a future filled with specialty marketplaces.
Operator Hotseat: Imagine Experiences
Peter Syme, MD 1000 Mile Journey & Tourpreneur
Ana Karina Araque, Co-founder, Imagine Experiences
Small operators and experience providers are central to the travel experiences industry. This session puts Covid-era startup Imagine Experiences, a small group specialty experience operator in the U.K. in the hot seat for a live conversation and business consultation with veteran operator Pete Syme to discuss business strategy, tactics and tips to help this operator – and all operators – learn and grow.
Making Multi-Day Mainstream
Douglas Quinby, CEO, Arival
Brendan Robert, CCO, TourRadar
Josh Carr, Head of Global Digital Partnerships, Intrepid
Claire Henney, General Manager – Travel Experiences, The Travel Corporation
The multi-day tour industry includes thousands of operators offering amazing some of the most incredible travel experiences. Yet despite its size and impact, multi-day continues to be a specialty market with little visibility in the global travel distribution ecosystem. This session explores the state of multi-day, the operational and technical complexities of the sector, and the challenges keeping the sector from becoming mainstream with global travel distributors and – ultimately – travelers.
The Future is Self-Guided
Douglas Quinby, CEO, Arival
Daphne Tsevreni, Co-Founder & Chief Revenue Officer, Clio Muse Tours
Andrew Lawrence, Commercial Director, Vox City
Marius Nigond, Founder & CEO, Vidi Guides
Self-guided tours of cities and attractions has been a rising trend across day tours and experiences during the pandemic, and a new way for solo travelers to explore a city but like to do so on their own. This roundtable assembles three leading providers of mobile self-guided tours to discuss the segment, the customer, where it's headed, and what operators and attractions need to know to benefit from the self-guided trend.
Ask Me Anything: Tiqets & Casa Batllo 
Douglas Quinby, CEO, Arival
Gary Gautier, CEO, Casa Batllo
Luuc Elzinga, President, Tiqets
This no-holds-barred interview with two industry leaders will delve into all things tours, activities and attractions, from tech and distribution to the economy, Google, and more. Join us for this closing discussion and townhall.
Key Trends in Visitor Attractions
Douglas Quinby, CEO, Arival
Aleix Pratdepàdua, Director, Mirador Torre Glòries
Walther Bakker, Head of Sales & Marketing, Moco Museum Amsterdam
The session explores the key themes shaping visitor attractions in 2022 and 2023, covering technology, distribution dynamic pricing, the economy, experience design and more. Join Arival and to innovative commercial attractions on the future of the sector.