We can't say it enough: too many operators and suppliers of tours, activities and attractions are still not online. But we get it — navigating the ins and outs of the booking system landscape is no easy task. There are so many different systems out there and so many things to consider, such as:
Why do I need a booking system?
What features and functionality should I look for in a booking system?
How much do booking systems cost?
How do I decide which booking system is right for my company?
Where do I even start?
That last one is easy: start here.
Arival has just released our comprehensive guide on How to Choose a Booking System, and due to our strong belief in how important this is for our industry and our mission to help operators of tours, activities and attractions move their businesses forward, we are making the guide available for free (with a couple of bonus add-ons for Insider Pro Access members only).
Why do I need a booking system?
Research shows more and more travelers are booking online, and expecting to be able to do so: if you don't offer an online booking option, they may go elsewhere.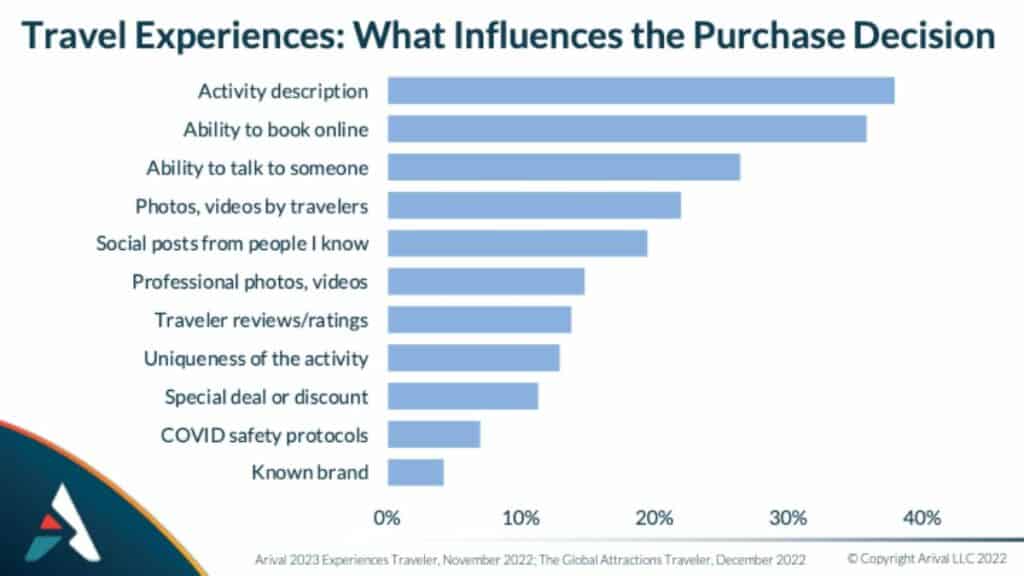 Every tour, activity and attraction operator, no matter how small or large, should be using an online booking system. Not only because this is what travelers are looking for, but also because the right technology should save you time and money by helping you automate all of the routine tasks of running your business so that you can focus on what makes your experiences special.
What features and functionality should I look for in a booking system?
Whether you call it a "reservation system" "booking software" "ticketing platform" "restech" or some combination of these, they all essentially refer to the same thing: an online booking system that can become the backbone of your operation, helping you run your business more efficiently, grow your online bookings, and function as a single source of truth for your product information, availability and bookings.
While most booking systems offer a wide range of features and functionality, there are a few essential components every operator needs to run their business, including:
a direct booking website,
real-time reservation management,
distribution features that connect you to major online travel agencies and other resellers,
payment processing functionality that connects to your accounting system,
and many more.
An important part of the process of choosing a booking system is determining which features are most essential for your business: our guide walks you through the process of assessing exactly what you need so you don't get too sidetracked by all the shiny objects along the way.
How much do booking systems cost?
Of course, the price will be a major part of your decision. There is quite a bit of variation from one booking system provider to another in terms of pricing models, and the best fit will depend on multiple factors, including your booking volume, sales and distribution strategy.
It's important to remember there is more to cost than price. The right system will not only save you costs in multiple areas of your business, but will also significantly increase your sales with website, marketing and distribution tools.
Online booking system providers for experience operators generally offer one of two types of pricing models: fee per booking or subscription. The different pricing models can have significant financial implications for your business. This guide explains the different models and provides an overview of the pros and cons of each.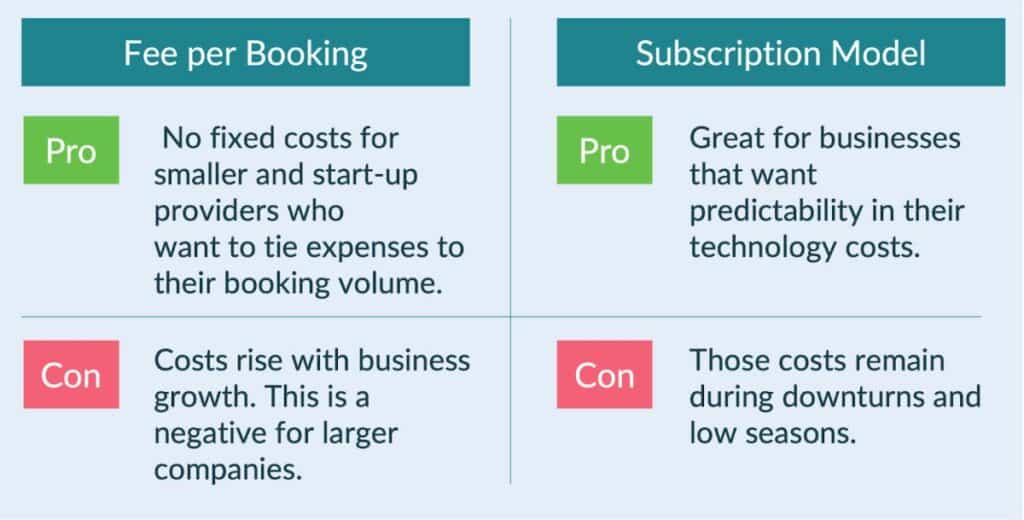 How do I decide which booking system is right for my company?
This is what it really boils down to. There are a lot of options out there, and a lot of them are great… but which one is the best for you?
One of the challenges here is that many booking system provider websites and sales staff will say their system does everything you need. They are all "the best!" or "the leading!" or "number one!" Most of them are also "all-in-one!"
This is why the process of assessing your needs is so important to helping you evaluate and select from the wide range of systems out there. Once you've determined what your needs are, and which features and functions will do the best job of meeting those needs, the process of sifting through potential booking systems becomes clearer. Along with this guide, we have developed needs assessment and vendor assessment checklists as well as a list of booking system providers to help you navigate this process.
Where do I start?
Download the Arival Guide: How to Choose a Booking System for free today! Insider Pro Access members can also download the companion Internal Needs Assessment and Booking System Vendor Assessment checklists.
Become an Insider Pro Access member today and get access to the full library of Arival research, plus many other benefits such as free consulting sessions, special discounts and 20% off in-person events, starting from $179 per year.