Tours and activities is one of the fastest-growing sectors in the travel industry, according to Arival, with approximately 70% of purchases happening in Destination.
One of the big reasons for this is the mobile phone and Google. People search on Google for what you have when they're in your area using their mobile.
There are a number of reasons businesses aren't found on Google, the number one being that SEO is difficult when you're competing against what I call "Big Travel."
OTAs and large travel companies with millions (sometimes billions) to spend on marketing means you have little or no chance of being found for a place, an attraction, or doing on Google search.
Unless, of course, your potential customers happen to be looking on google maps. Then you have a fighting chance because Big Travel can't compete with you. When you have a business address, you will appear above Tripadvisor in the search engine results when someone enters "activity near me," and your activity happens to be the closest.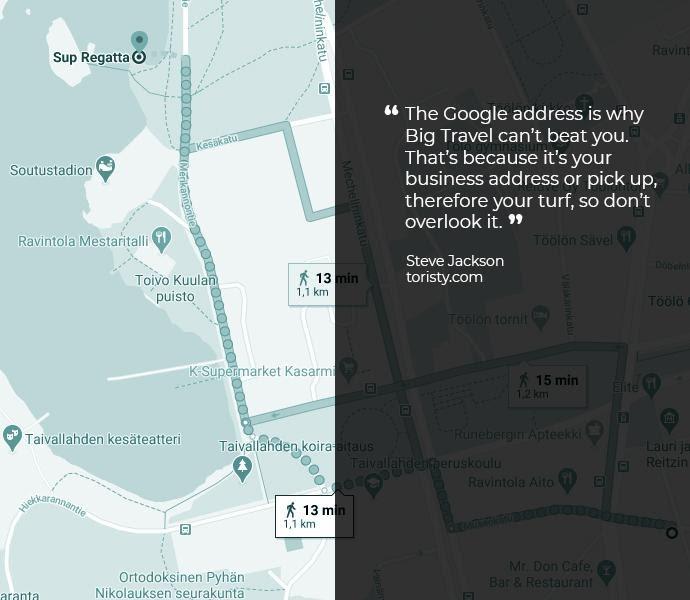 The OTAs can't beat you at this by having a bigger budget. This means that "Google my business" is key to your direct marketing strategy.
What is Google My Business?
It's a web page Google lets you own on google maps.
Imagine the scenario. A family of 4 looking for adventure arrive at your town straight from the airport and start planning what to do the next day. One of the kids happens to love Kayaking.
He goes to google and types "kayaking near me." Up pops a bunch of results on Google Maps, showing the various results allowing the family of 4 to book the kayaks they want.
They are ready to buy, are in destination, looking for something to do for a couple of hours. Finding your kayaks ahead of the competition is what you want, right?
Having a good Google My Business presence allows you to do just that, for free, and in most cases, Big Travel is nowhere in sight.
Kayaking near me
I live in Helsinki, so I typed "Kayaking near me" into google, and the number 1 result happens to be at a cafe right around the corner to where I live.
I wasn't even aware that the Regatta (a great little Helsinki Cafe on the seaside) did kayaking, sup boards, and canoes.
This is just another benefit of getting Google my Business right, because if the locals happen to be locked down with nothing to do (pandemic anyone?), they (like me) may not know what's right on their doorstep until they do a Google search.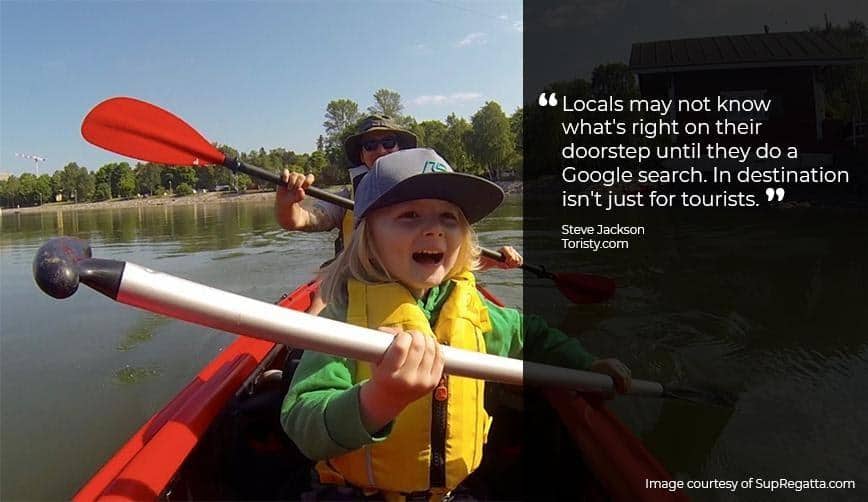 How to set-up Google my Business
Go to your Google account and click on your account tab. Right next to your profile image, Google my Business icon appears. Click on that and navigate to the info section.
Business name. Use your business name as your Google My Business (GMB) listing. Don't stuff your business name with keywords. Sup Regatta, for instance, used Sup Regatta as that's what their website is called.
Address. Use your business address—the place where you receive post. If you don't have an address and operate from pick-up points, you should set-up a service area business. GMB allows service area businesses to set up a maximum of 20 locations that are 2 hours driving time from where your business is based. More information about service areas and hybrid businesses.
Hours. Set-up your opening hours to match the times you are available. By keeping hours correct, you can avoid negative reviews.
Phone number. Your business phone number that you use on your website. Studies from TripAdvisors SinglePlatform have shown that 79% of consumers would prefer a local business to be national or international ones, so if you have a local number, it's better than 0800. Use Google's Click to Call feature and track the calls in Google Analytics if you use it.
Website URL. Link to your website. If you want to separate what comes from GMB and ordinary google searches, you could track it in Google Analytics using UTM parameters on your links. So instead of just https://www.supregatta.com, it would be https://www.supregatta.com/?utm_source=GoogleMyBusiness&utm_medium=organic.
Additionally, make sure your website has English and your local language because GMB crawls your site and displays relevant queries IE; in SupRegatta's case, Google displayed "Their website mentions Kayaks." They also do something similar in Finnish (the local language). This helps locals (inputting keywords in Finnish) and tourists inputting in English, for instance.
Categories. Select the category which is most relevant to your business. In SupRegatta's case, this was the Canoeing area in Helsinki. Secondarily Kayaking, SUP boards, etc. Everything relevant goes here. Don't put things that aren't relevant. For instance, SupRegatta as a business isn't the same as the cafe they have set-up as Cafe Regatta, categorized as a Cafe.
Attributes. When you have selected categories and product types, select the relevant attributes. For instance, "mask required, staff wear masks" might be useful for tours and activities from the health and safety section.
Business Description. The first 250 words appear on your listing, so make it as enticing as possible. The idea is to write with the customer in mind rather than the search engine and answer the question "why rent your kayaks and not the competition?" in the case of SupRegatta.
Products & Services. Add all relevant products and services you offer. Something you sell with a fixed price could be a product, and something with a variable price like a rental or a multi-day service could be a service. Add photos, pricing, descriptions, and keep them relevant to what you sell.
Photos. The main cover photo should be something relevant to your service. For instance, as shown above, Sup Regatta used a picture of people canoeing and having fun. This is what shows up on the search engine, so it's important you get this right. Also, take seasons into account. If it's summer, use a summer image.
Posts. If you have special offers, deals, competitions, update them here. When people see regularly updated posts when searching, it again helps with consumer trust. Five minutes a week may be enough to bring you a new sale per week.
So you have a Google My Business page… what next?
You're already one step closer to improving your direct in destination sales strategy by adding GMB to your arsenal of tools.
This setup allows you to outrank Tripadvisor and other OTAs when travelers are in destination searching for what you have. I'm not suggesting you abandon working with the OTAs, but by owning the first results on a search engine, you have a much better chance of winning the business.
The next step coming in a future article is setting up Reserve with Google, a way to take bookings directly from your GMB page.
The travel industry is tough, and you need to take advantage of every opportunity to make destination sales. I hope that you can start leveraging the GMB opportunity to improve not only your Google rankings but your business.
Author: Steve Jackson, CEO of Toristy
Website: https://toristy.com/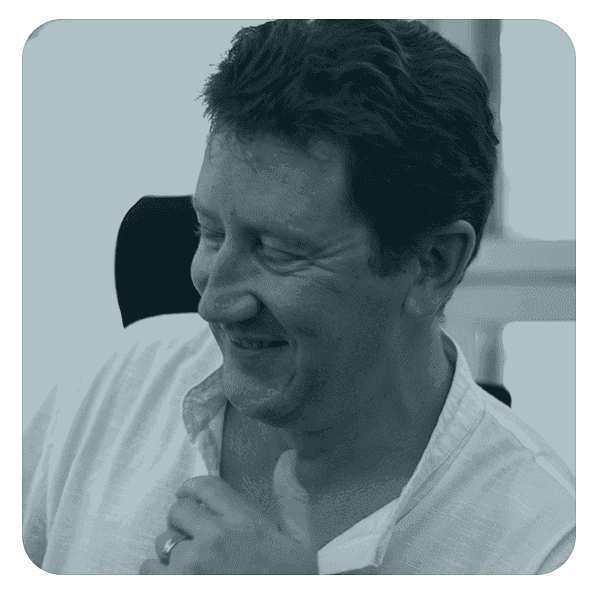 Steve Jackson is a veteran of the Analytics, Digital marketing, and search engine optimization field having over 20 years' experience working for "Big Travel". He now is focusing his efforts on making tour and activity operators in the experiences sector of the travel industry famous. He does this using Toristy's tour operator booking software and in-destination sales network. If you're looking for a reservation tool create a free trial account at the Toristy portal to find out for yourself if we can help you.