As restrictions on travel and stay-at-home orders from governments across the world accelerated last week, Arival's business risk index, which tracks the percentage of tour and activity operators at risk of failure, has risen sharply.
More than 2 in 5 operators, or 43%, responding to the survey between March 14-19, now say their business may fail if travel demand does not begin to return after three months. This is up sharply from 28% of operators in the previous week.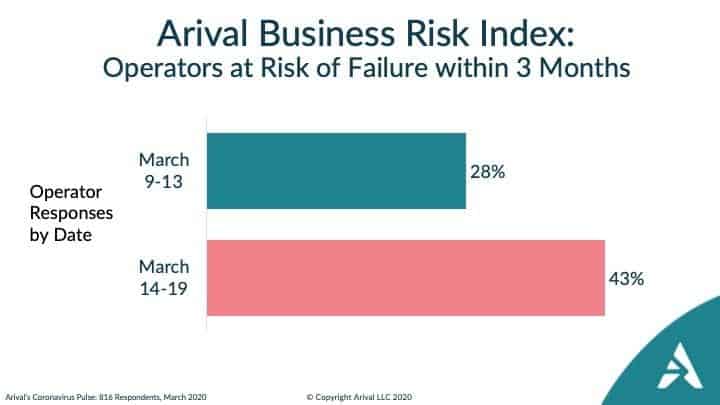 Arival initiated its Coronavirus Pulse on March 8, 2020, to measure the effects of the outbreak and widening travel restrictions on tour, activity and attraction operators worldwide. Arival has received 816 qualified responses between March 8 and March 20. More than 4 in 5 respondents are operators of tours, activities, and attractions, and 19% represented online travel agencies, distribution companies, technology providers, and other services in our industry. 
Arival conducted the survey online with support from bookingkit, FareHarbor, Globaltix, Peek, Trekksoft, Viator, and Tourpreneur. 
The average decline in year-to-date bookings vs. 2019 rose significantly over the same period, and the percentage of total 2020 bookings canceled nearly doubled, from 36% to 66%. 
Arival's Coronavirus Pulse covers the impact of the outbreak on operator business performance. The study also looks at the steps operators are taking in business operators, marketing, cancellations and refunds, and more. You can download the complete presentation for free here.
Watch the online presentation of these findings from last Friday's Arival Online Town Hall