Amsterdam is adding another tourist tax, a signal of what may come for destinations struggling with overtourism.
Overtourism is an issue impacting many cities worldwide. From unaffordable housing in Barcelona due to the prevalence of short-term rentals to polluting cruise ships in Vietnam's Ha Long Bay, overtourism can lead to reduced quality of life for locals, degradation of ancient monuments, environmental damage, and even poor travel experience for the very tourists contributing to the issue.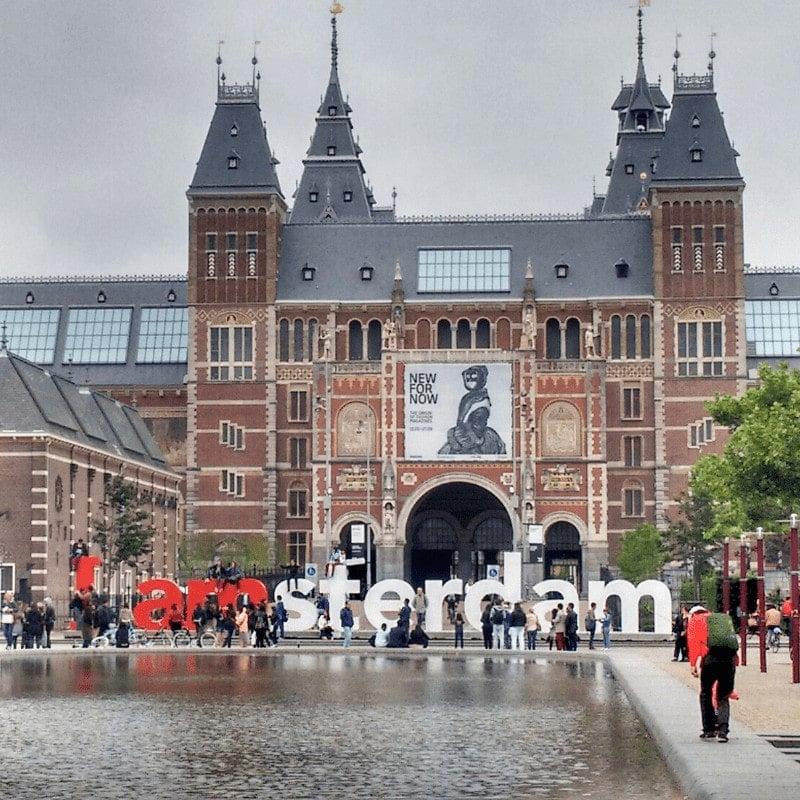 Amsterdam, the Dutch capital that hosts upwards of 19 million visitors per year, is at the epicenter of the overtourism issue. Over the past two years, the city has been taking radical measures to mitigate the effects of overtourism. In 2018, the city of Amsterdam removed the famous "I amsterdam" sign because it was attracting too many visitors and causing congestion; earlier this year the city's tourism board shifted their tactic from promoting Amsterdam to prospective travelers to managing tourists better by highlighting Holland's less popular regions and cities, and launching campaigns such as "Enjoy and Respect," which incentivizes tourists (specifically male visitors aged 18-34 who come to Amsterdam to party) to be on their best behavior while visiting the city via hefty fines for public urination, public drunkenness and more.
In January 2020, the city will enact another measure to assuage overtourism by charging a tax on walking tour participants, arguably the better-behaved guests. Called the entertainment fee, walking tour participants will be charged €1.50 per guest, regardless if a vehicle is involved or not. The Amsterdam municipality describes a city tour as "an organized walk or journey by means of transport … the participants visit or view typical Amsterdam sights, places and cafes/restaurants with or without a guide, but organized."
This isn't Amsterdam's first tourist tax. In 2019, the city launched a €3 fee per night for visitors who stay overnight in a hotel or other accommodation. That's on top of an already-existing 7% tourist tax. This is the first time walking tour participants will be taxed.
Amsterdam Tax Impact to Tour Operators
For some operators with tours in Amsterdam, the new city tour tax may have a direct affect on their business. 
Hubert Nijmeijer, founder of Hi,hi Guide, a platform that connects travelers directly with local guides, says the tax may make guides raise their price. "The new tax forces us to adjust our system in order to include €1.50 per person. Paying per hour results in a more affordable price for a tour, but the €1.50 will increase the total price substantially," he says. 
However, Nijmeijer doesn't believe the tax will prevent travelers from participating in city tours. "If is to discourage travelers from taking tours, we think it's nonsense," he says. "When overtourism is the central issue, we are not sure that taxes will be the solution. It would only make tourism more and more an elite product."
Nijmeijer says a better option to mitigate overtourism would be to better promote the Kröller-Müller museum, which hosts the second-largest collection of Van Gogh drawings and paintings, at the Veluwe. While the €3 overnight tourist tax makes sense to Nijmeijer, as the collected money funds local services such as garbage collection and increasing safety, it isn't yet clear what the city tour tax will go toward. 
Matthijs Keij, CEO of Withlocals, a Netherlands-based platform enabling travelers to book tours with locals around the world, has a more positive outlook regarding Amsterdam's city tour tax—despite how the tax may make tours slightly more expensive for travelers participating in a Withlocals-booked private tour. 
"In general, regulation is helpful if the market is not able to take care of issues themselves. With tourism in Amsterdam (as well as in other cities) that's clearly the case," explains Keij. "Whether tax is the right incentive is yet to be seen, but at the very least it makes it clear that something has to happen. We hope the tax is not simply included in the tour price, but that it will trigger a more thorough rethink of how we can promote travel, but in a more sustainable way." 
Like Nijmeijer, Keij doesn't think the city tax will necessarily decrease the number of tourists in Amsterdam. But he hopes the tax will help maintain the city's infrastructure, and keep it clean and green. "The tax should go hand-in-hand with a strong policy on tourism that takes all stakeholders into account, including travelers, locals and guides." 
There are still a lot of lingering questions about the city tour tax. Will it relieve congestion within the city? Will it hinder tourists from taking tours? Will Amsterdam acquire a reputation as a destination only for elite travelers? Will other cities across Europe adopt similar taxes? 
As Amsterdam grapples with making sure the city provides a positive experience for travelers and the people that call it home, we'll keep an eye on how the city tour tax impacts operators who rely on tourists for their business.
Read the city of Amsterdam's full letter announcing the tax levy to tour operators.