We're launching a new forum at Arival dedicated to operators of museums, zoos, theme parks, sites, landmarks and other cultural attractions.
Attractions drive tourism.
Museums, zoos, theme parks and historical, cultural and natural attractions—travelers visit these more than any other type of in-destination experience. In fact, six of the seven most popular types of in-destination experiences include attractions.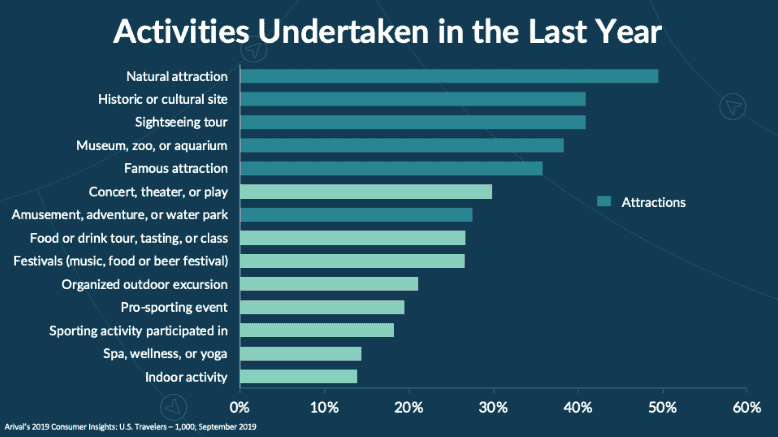 While attractions are an integral part of the in-destination ecosystem, operators and management at these organizations face a unique set of challenges, from distribution and technology to growth, sustainability and the guest experience. 
That's why we're launching Attractions@Arival, a new forum at Arival Berlin 2020 dedicated to the distinct challenges facing museums, zoos and aquariums, theme parks, and cultural sites and landmarks. Held within Arival Berlin, Attractions@Arival will be open exclusively to attendees from attractions as well as distribution and service providers that work directly with them.
Arival is thrilled to have the digital distributor GetYourGuide as the official launch partner for Attractions@Arival. 
"From managing yield to supporting philanthropic missions, attractions face a unique set of strategic challenges within the travel experiences industry, and deserve a unique set of solutions," says Johannes Reck, co-founder and CEO of GetYourGuide. "GetYourGuide is proud to be partnering with Arival to launch the first-ever dedicated forum for attractions. We look forward to bringing together the community's top minds under one roof for what will no doubt be an incredible two days." 
Attractions@Arival will feature dedicated space for networking among attractions sector leadership and carefully designed presentations and interactive roundtable discussions on topics tailored to attractions.
Attractions@Arival Program
The following are a few of the sessions for the Attractions@Arival program at Arival Berlin you can expect: 
Arival Traveler Insights. Exclusive new research from Arival on how travelers find, plan and book attractions, why they choose them, and what they want.
The Right Kind of Growth. How attractions can drive responsible growth in an age of overtourism.
Programmatic Advertising for Attractions. An in-depth workshop on advanced programmatic campaign strategies specifically for attractions.
Dynamic Pricing & Revenue Management. A session devoted to the future of pricing for ticketed attractions.
Working with OTAs & Resellers. A targeted look at the relationship between online travel agencies (OTAs) and attractions, and how resellers can work to serve the goals of attractions beyond selling more tickets.
Arival Operator Insights & Benchmarks. Arival CEO Douglas Quinby will present key findings from its Global Operator Landscape Study featuring insights and trends on how attractions operate, market, distribute and more. 
If you work for or with a landmark, museum, zoo, amusement or theme park, entertainment center or other ticketed attraction, then join other leading attraction executives and digital tourism brands for a new, interactive forum dedicated to an important part of the Best Part of Travel: Attractions@Arival.
To learn more about reaching attraction attendees at Arival, please contact Ella Soop, Global Business Development Manager.
To attend Attractions@Arival Berlin, register for Arival Berlin 2020 today. Attractions@Arival is included in your Arival Berlin registration ticket!