Women have made important strides in helming successful in-destination businesses. But it is still rare for adventure sports-focused tours, activities and attractions to be helmed by women.
According to membership data from America Outdoors, the association and advocacy group for outfitters and operators of outdoor experiences, there's still a significant lack of women leaders in the sector. Despite generational shifts that have enabled women to pursue leadership roles in business, such as having children later and being more likely to participate in the workforce, just 37% of management-level or higher individuals in outfitter businesses are female, and 23% of these women own the business. This figure is far higher than the percentage of women CEOs of Fortune 500 companies, which is an abysmal 7%. But it's far from the goal of 50%. Nudging that percentage higher will take time. 
While the gender disparity is still formidable, it is important to recognize those who are stepping up to challenge norms and lead by example. Representation is important because it inspires younger generations to pursue leadership roles in their organizations or even launch their own businesses.
Here, three noteworthy women operators share stories about their businesses, how they are challenging norms, and the ways in which they are forging their own paths.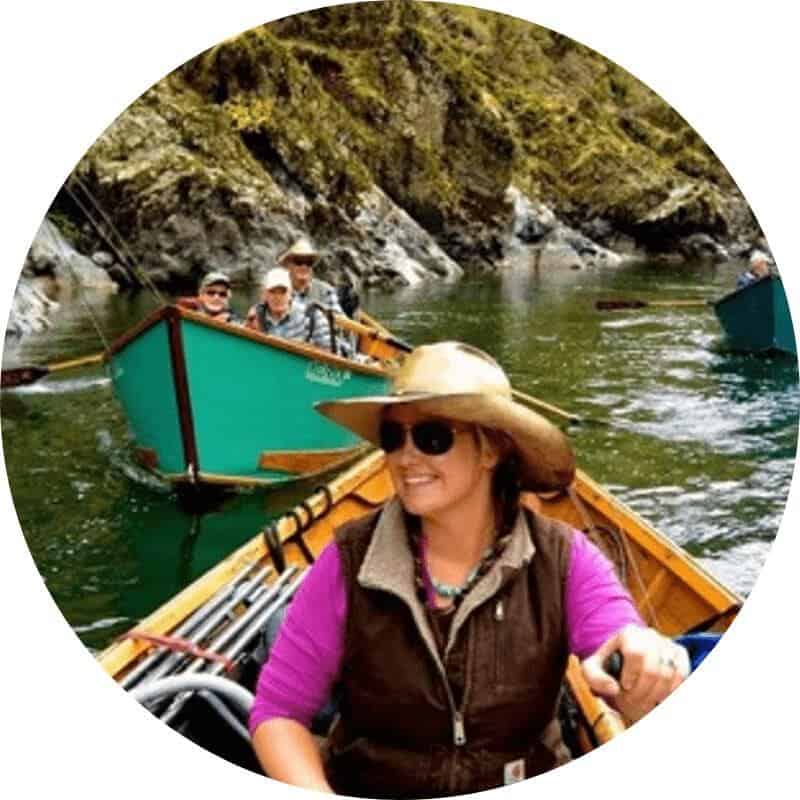 Kelsey Helfrich
Co-owner, Helfrich River Tours, based in Idaho and Oregon
How did you get involved in River Guiding?
My family started guiding and outfitting back in 1922 with my great-great granddad, who did some guiding. Then his son really ran with it and created an outfitting company. They got started on the McKinsey River over in Oregon. My great-great-grandparents had a lodge on the banks of the McKinsey where people could stay if they were going to drive between Eugene and Bend, over the Cascades, which is now a two-hour drive but back then it was more of a two-day trip. So that's how they got started—by convincing people to stay an extra day at the lodge to go out fishing for the day.
I've been tagging along with my dad since I was a little kid. I was age five when I started going on big overnight river trips without my mom. I started running a boat shortly after. I ran the Wild & Scenic Rogue when I was 12 and kept moving up from there.
What advice do you have for young women or girls who want to pursue leadership opportunities in outdoor operations?
I think women are more likely to doubt themselves or be cautious and hesitant, and I think you've just got to go for it. I think boys growing up are taught to not be scared and to do things, and girls are taught to be more cautious. The more time you spend out in the field, the better you will be at it.
Don't listen to the critics. You have to be your own support system and your own cheerleader.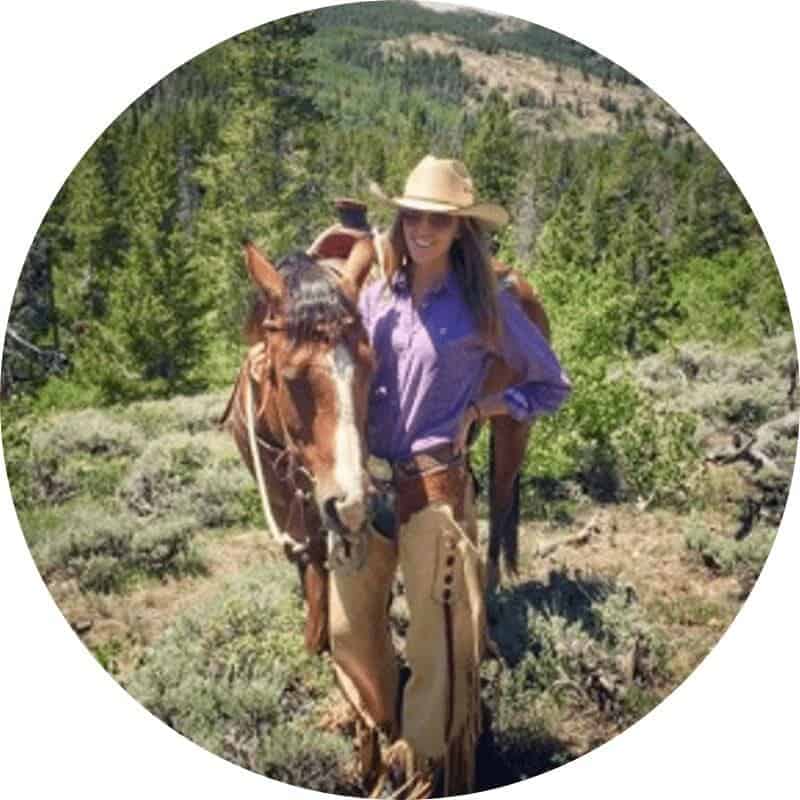 Jessie Allen
Co-owner, Allen's Diamond 4 Ranch in Wyoming
How did you get involved in Allen's Diamond 4 Ranch, and what are your plans for its future?
The ranch has been a family business since 1973. It is a guest ranch outside of Lander, Wyoming in the Wind River Mountains. What makes us so unique is that we are the highest guest ranch in Wyoming, not to mention we are off the grid! On the property, there are natural springs, five guest cabins, and a lodge where we share meals with our guests. We have about 90 horses on the ranch. We have a variety of options for our customers: Some guests stay at the ranch and do daily trail rides; others pack in groups of rock climbers, fishermen, and backpackers into the mountains. We do a lot of multi-day guided pack trips where we camp with horses and do day rides from a basecamp.
Recently I started offering Women's Wellness Pack Trips, which is a week-long trip for a small group of women where we do yoga, horseback riding, hiking, and focus on wellness and nutrition.
Since we are a family-owned business we are still navigating the transition from my parents operating the ranch to be taking over management. I have a lot of ideas for the ranch, but I also value their knowledge and resources as we move forward.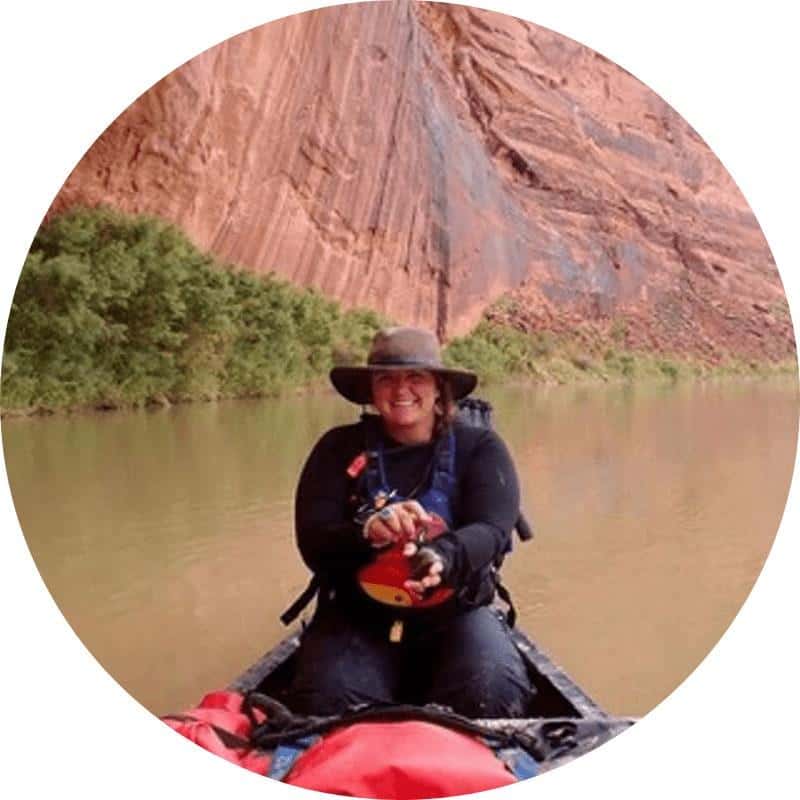 Brooke Ranney
Owner, Western River Outfitters LLC & Centennial Canoe Outfitters based in Colorado
Have you noticed any changes in the industry since you launched your business?
When I first started, we had three women in my training group out of 30. Women were the minority. Now, the industry is open to more women becoming guides and moving forward with their careers.
In the past, Jessica Booth of Outdoor Adventures was the only woman rafting owner I knew. Now with the America Outdoors Women's Group, I think that pool is growing. It has a lot to do with the time that we're in with the Me Too and the Times Up movement. Women are realizing their capacity to lead. Before it was few and far between that you would see a female owner in the industry. Now I see a lot more of it—I'm one of them who is stepping up and I probably wouldn't have if I had not had that support and mentorship.
About America Outdoors:
America Outdoors promotes and supports outdoor adventure businesses through advocacy, education, and collaboration. Our annual conference happens every December, offering the ideal opportunity to learn from the professionals, see the latest gear, and connect with outdoor industry peers. Join us in Salt Lake City December 9-12; save 10% when you register with the code ARIVAL.
Together on rivers and mountains, roads and trails, America Outdoors is here so you can be out there. We invite you to join us to be Where Outfitters Thrive.