If you've ever Googled "marketing agency" or "marketing for tourism" or even just "I can't! Marketing! Help!" you will know how easy it is to get lost in a 5-star sea of marketing companies.
Thankfully, there are a growing number of marketing agencies that specialize in tour and activity operators, and Arival has done the work to sort through them for you. The agencies on this curated list all know tourism, and the specific challenges and opportunities that operators in the in-destination industry face.
Whether you're a small operator looking for a little help increasing your direct bookings, a medium operator looking to overhaul your marketing as you scale up, or a large operator looking to partner with a professional team for a sophisticated campaign to rocket you above your competition, we think you will find a good match on this list for you.
Please note: Although some but not all of the agencies listed here have been Arival sponsors, no company has paid Arival to be included here. The list is presented in alphabetical order. If there are other marketing agencies focused on tours and attractions that we have overlooked, please let us know at [email protected].
AAMP Agency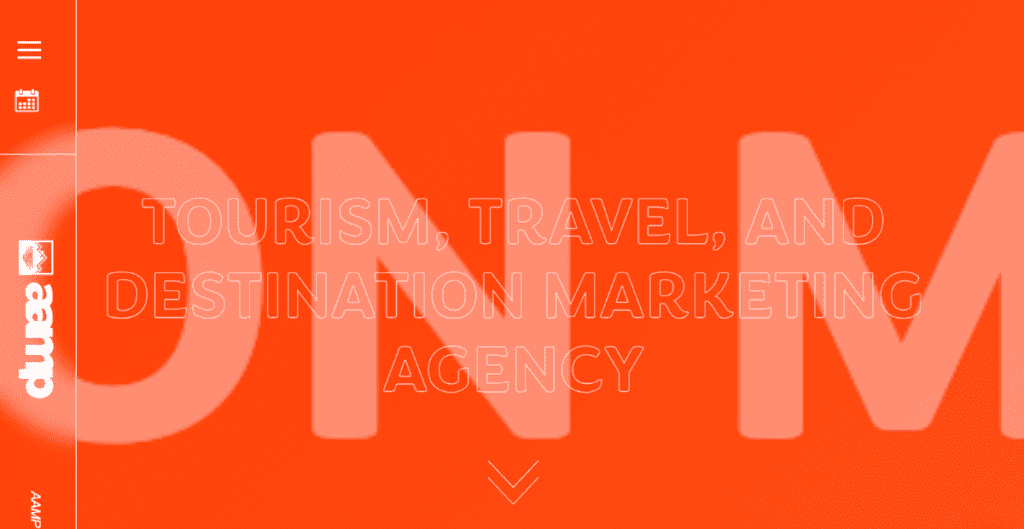 AAMP is a marketing agency for the adventure tours and activities market. AAMP – which stands for Adventure Activity Marketing Pros – offers a comprehensive range of marketing services, including website design and development, competitor analysis, brand development and logo design, advertising strategy, social media management, videography, graphic design, and more. Based in Las Vegas, AAMP has worked with a range of adventure-oriented activity and tour operators, including snowmobile tours, jeep tours, and cable car wine tours.
What stands out: Their website itself is an experience, which demonstrates they know how to walk the talk of design and user engagement. They also have a podcast where they talk the talk about tourism marketing and cool tech in the travel industry.
Blend Travel Marketing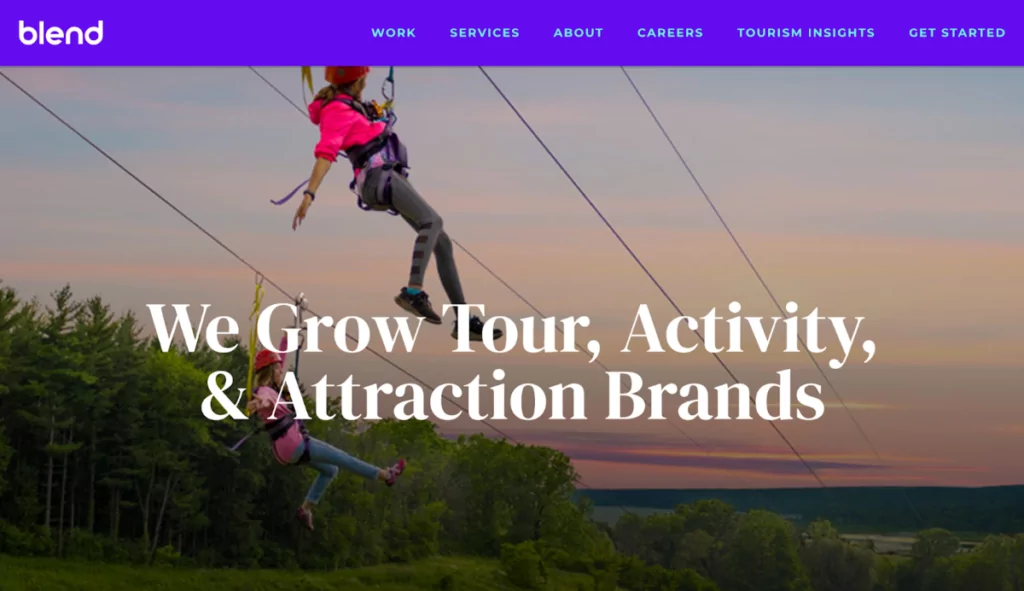 Blend is a full-service digital marketing agency whose passion is to "help tour and activity businesses grow." With a comprehensive collection of services covering strategy, branding, marketing and websites, Blend's team emphasizes they are guided by values, including honesty, humility, excellence, love, learning and fun. Based in the U.S., Blend has worked with a variety of small and medium-scale tour and activity operators, including ziplines, pizza tours and pop-up experiences.
What stands out: Blend emphasizes that the working relationship with them will be like simply adding a new, expert marketer to your team. I suppose you could say they will simply "blend in".
Gondola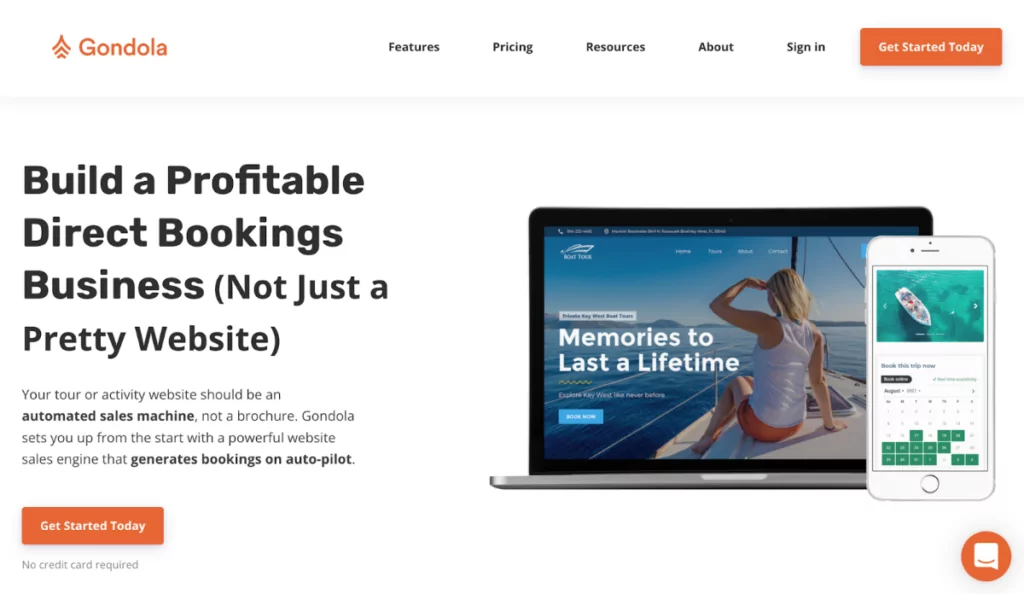 Gondola is not a marketing agency at all, but we've added it to the list anyway because of its unique offering. Founded in 2021, Gondola is essentially a website and e-commerce platform specifically tailored for tour and activity operators to grow direct bookings with minimal cost and technical expertise required: think "Shopify" but for tours. Tour and activity operators such as Key West Boat Trips, San Antonio Mural Rides and Poncho Tours in Argentina are already using the platform.
What stands out: For small-scale operators on a tight budget who want to simply make better use of their website, Gondola offers an appealing, affordable way to increase direct bookings without a massive marketing project undertaking or investment.
Holibob (TourismSolved)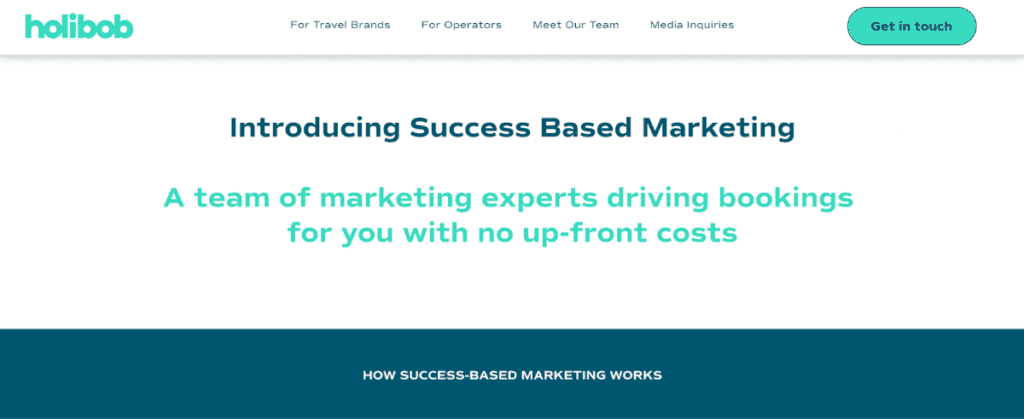 Tours and attractions reseller Holibob recently acquired the TourismSolved team, and has integrated TourismSolved's tourism-focused content and marketing platform into the wider Holibob umbrella. TourismSolved–now operating under Holibob's brand–offers a variety of services in marketing, website design, content and product development. They have worked with over 200 tour and activity operators, including Savannah Taste Experience, American Ghost Walks, and Westcoast Sightseeing.
What stands out: Their "success-based marketing model" means, rather than paying a large up-front or subscription cost, you pay a percentage of the revenue from your direct bookings for their marketing services.
Sojern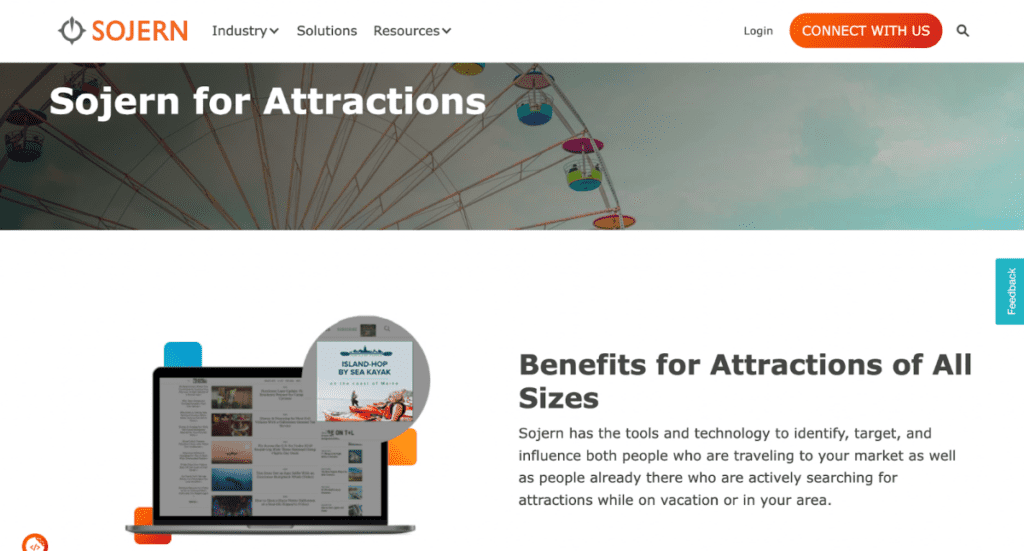 Primarily an advertising platform, they focus on targeting travelers who are traveling to or already in your area, in order to "get more out of your advertising spend." While Sojern offers their services to a range of companies across the tourism industry, from hotel chains to destination marketers, they do have one arm specifically tailored for the attractions sector, and have worked with attractions such as Blue Hawaiian Helicopters, Rainbow Riders (hot air balloon rides) and The Tour at NBC Studios.
What stands out: Their "smart advertising platform" gives tour and attraction operators the tools to find and target your digital advertising towards travelers looking to travel to, on their way to or already in your area.
Sunstone Digital Marketing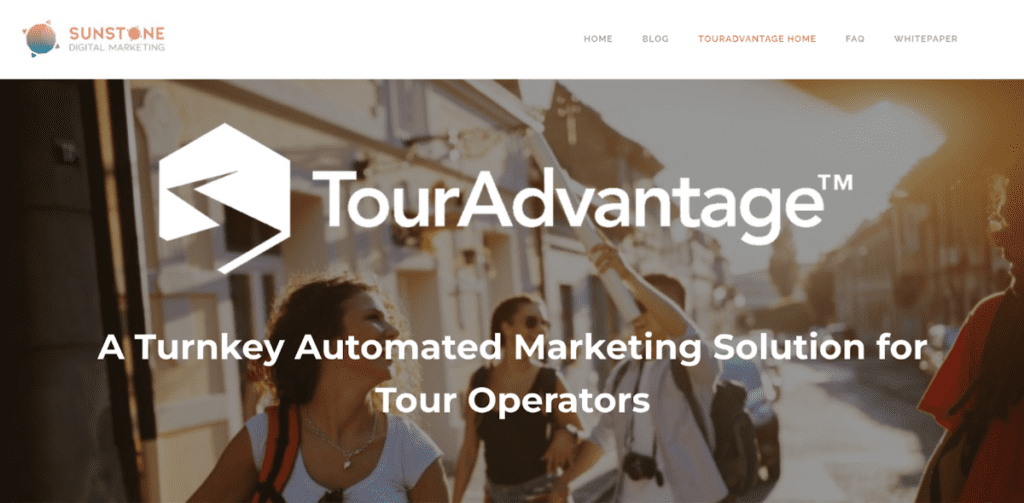 Sunstone Digital Marketing offers their automated marketing system, TourAdvantage, which is built specifically for small and medium-sized tour and attraction operators. Primarily an email marketing system, TourAdvantage integrates exclusively with the Fareharbor booking system, as well as Drip for email, with the goal of increasing direct bookings for small businesses. Based in Georgia, U.S., they have worked with several small to mid-sized tour operators, including Unexpected Atlanta, Atlanta Food Walks and Atlanta Movie Tours.
What stands out: The TourAdvantage system could be a good solution for small and mid-sized tour operators who aren't necessarily ready for or needing a big marketing overhaul, and have limited time to spend on marketing efforts, but want to increase their direct bookings.
Tomis Tech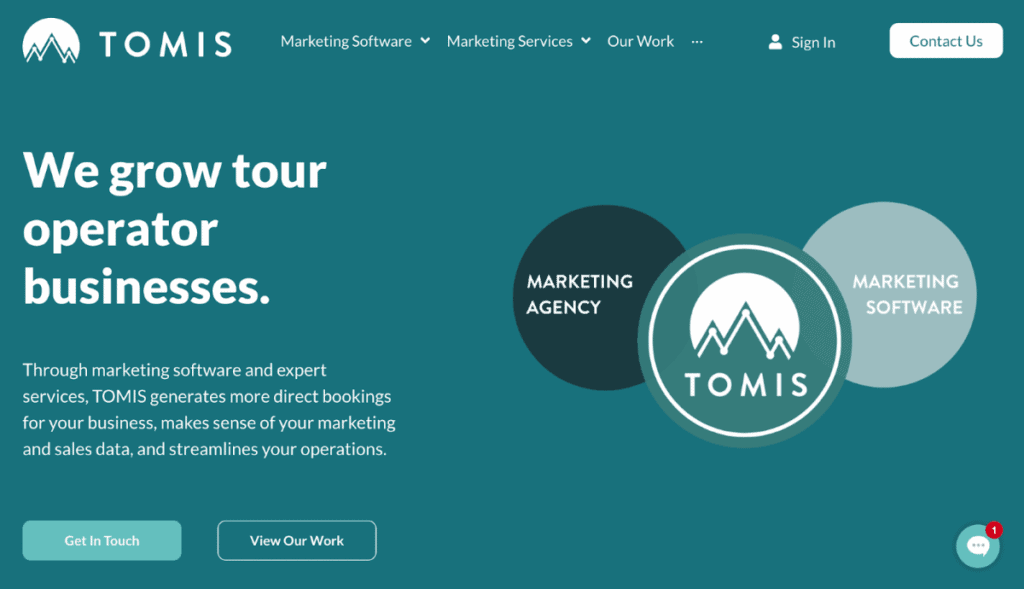 The primary TOMIS offering is a software platform (TOMIS = Tour Operator Marketing Intelligence Software) built specifically for tour operators for marketing automation, AI chat and review generation. TOMIS is also a digital marketing agency that offers the "1-stop marketing shop" standard suite of services such as website development and hosting, Google ads and SEO. Based in Montana in the U.S., TOMIS has worked with a range of tour and activity operators, including boat tours, white water rafting, urban walking tours and escape rooms.
What stands out: The TOMIS software is an innovative addition to the regular "one-stop shop" marketing services, which could work well for tour operators who are looking to automate many of their marketing processes, particularly the chat function.
Tourism Marketing Agency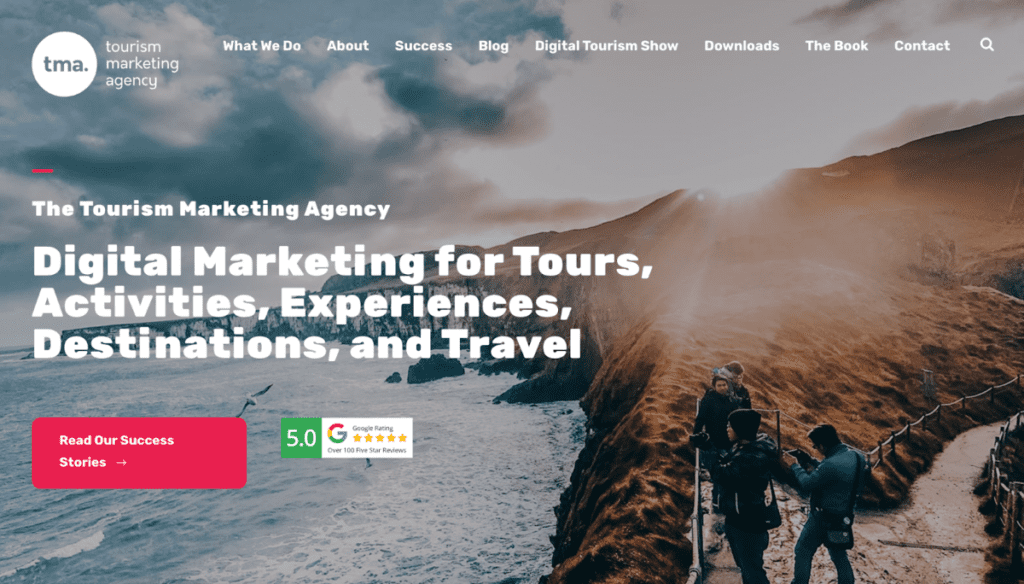 Tourism Marketing Agency (TMA) is a digital marketing agency that works with tour and activity operators to "turn Lookers into Bookers." Their process involves partnering with operators to go through a three-step process from "Discovery" (understanding your target audience and current marketing effectiveness), "Awareness" (increasing your online profile and building your brand) and finally "Growth" (converting your new traffic into customers). TMA offers a range of services to accompany this process including consumer research, a free website, marketing automation, brand development and logo design, and social media management. Based in Scotland, TMA has worked with travel brands and companies across the world, including Overland Ireland Tours, Wicked Wine Tours (Kelowna, Canada) and Escapegoat Adventures (South Australia).
What stands out: TMA has an educational focus, aiming to guide tour companies to "stand on your own two feet" by complementing their provided services with free resources and guides. They also have possibly the most adorable HR manager ever.
TRK Creative Group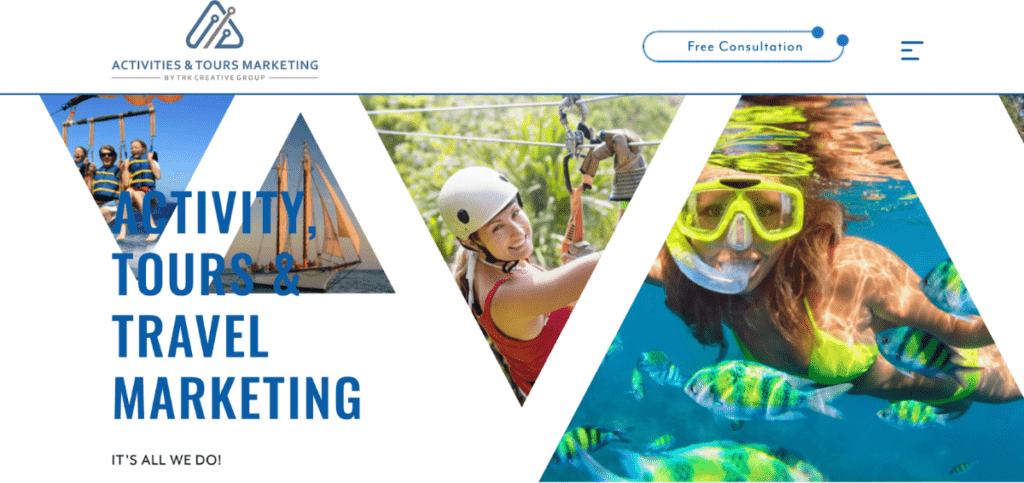 TRK Creative Group is a digital marketing agency for the tours and activities sector that puts a strong emphasis on measurement and tracking. With a goal of increasing direct bookings through online and mobile, their services include paid search and social advertising, SEO (Search Engine Optimization), website design and development, call tracking and consulting on reservation systems, OTA channel management, review management, and graphic design. Based in the U.S., they have worked with a range of activity and tour providers, from whale watching to helicopter tours to craft beer tours.
What stands out: The focus on measurement–including analytics and call tracking–means you will know exactly how much your marketing investment is increasing your direct bookings. TRK Creative Group is also a member of "1% For The Planet", which means they give 1% of their annual revenues to local environmental non-profits designated by their clients.
Von Mack Agency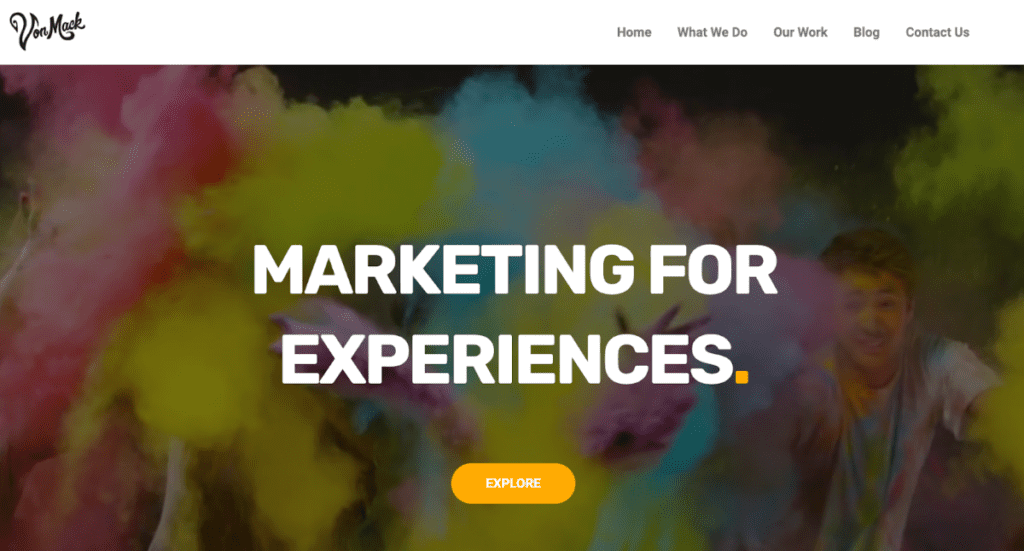 Von Mack is a full-service marketing agency that specializes in marketing experiences. With an emphasis on strategy, Von Mack offers a range of services from branding to web design and SEO to social media campaigns and creative content. Based in New Orleans, Louisiana, Von Mack has worked with a range of companies in the tours and experiences sector, such as New Orleans Ghost Adventures, Panama City Adventures and Quirky Europe Tours.
What stands out: Every member of their team has worked in tourism, which means they personally understand the industry and the unique needs of the companies they serve. Additionally, they are a 100% woman-owned business.
…
Did we miss anyone from the list? If you have had a good experience working with a marketing agency that specializes in our industry and think they should be on the list, please let us know: [email protected]
Join us at Arival 360 | Las Vegas in October to learn more about marketing in some of our marketing-oriented sessions, connect with some of the companies on this list and get your website critiqued for free.
GET ON THE LIST!
Sign up to receive insights tailored for the in-destination industry as well as updates on Arival.
Sign Up
Become a Pro Access member to save 20% on Arival in-person events and gain access to 600+ articles, 350+ on-demand videos, 45+ research reports, guides and more, starting at just $179/year.
Feature photo by Mikael Blomkvist from Pexels