Return to Research
Tours, Activities and Attractions by Arival and Phocuswright
A Joint Project from Arival and Phocuswright Arguably the most diverse and complex travel segment, tours, activities and attractions (In-Destination Experiences) has undergone tremendous shifts since Phocuswright undertook its last global study in 2016 and Arival's even more recent study in 2019. Travelers are hungrier than ever before for experiences. A younger generation that ... Read more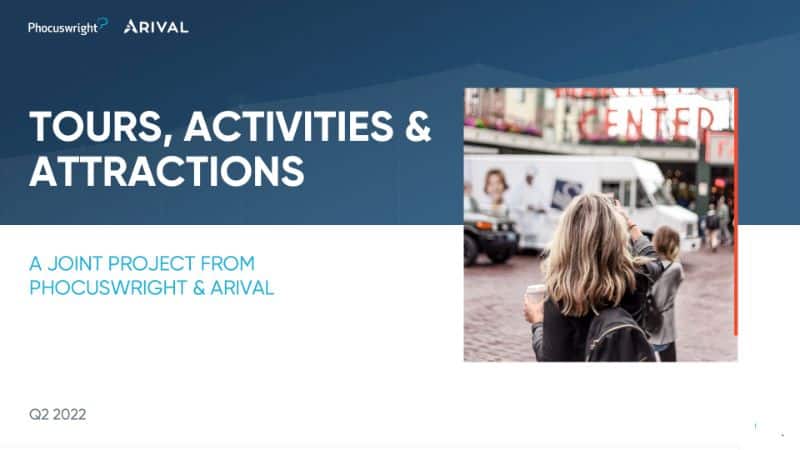 Summary
A Joint Project from Arival and Phocuswright


Arguably the most diverse and complex travel segment, tours, activities and attractions (In-Destination Experiences) has undergone tremendous shifts since Phocuswright undertook its last global study in 2016 and Arival's even more recent study in 2019.
Travelers are hungrier than ever before for experiences.
A younger generation that craves experiences and authenticity, a desire to relegate the pandemic to distant memory: Consumers have fresh attitudes towards travel. An ever-deepening reliance on and demand for technology in life also spills over into travel.
The acceptance of operational digitization is in fast forward.
Availability of technology solutions that meet a breadth of needs have empowered operators. Consumer demands coupled with pandemic awakenings have further convinced formerly-reluctant operators.
Power dynamics and attitudes have shuffled.
Global travel giants once focused on incorporating activities via a DIY approach have recalibrated strategy. Segment-focused companies previously tagged as "start-ups" have raked in piles of cash and are intent on disrupting the status quo.
Sponsor this upcoming research project and receive insights including:
The current size and opportunity of the global In-Destination Experiences marketplace, including regional differences in business recovery
The state of In-Destination Experiences provider's business operations, including performance, technology adoption, challenges, and sales and distribution trends
Traveler attitudes and behaviors when choosing and consuming In-Destination Experiences products
Key questions this research will address:
What's the size of the global opportunity and outlook for recovery?
State of sales, marketing and distribution?
What's the inventory makeup of the In-Destination Experiences landscape?
How has technology utilization evolved, from both business operations and traveler side?
What has been the pandemic impact to businesses and activity participation, and what's the outlook?
What types of activities do travelers seek and why?
Where, when and how do travelers discover, research and book In-Destination Experiences ?
How does business performance and consumer behavior differ by markets?
For more information, contact
Bruce Rosard