Return to Research
Mobile Self-Guided Tours Report (2020 Edition)
The only comprehensive market overview and vendor list for mobile self-guided tours: How tour and activity operators can leverage self-guided tours in travel's recovery.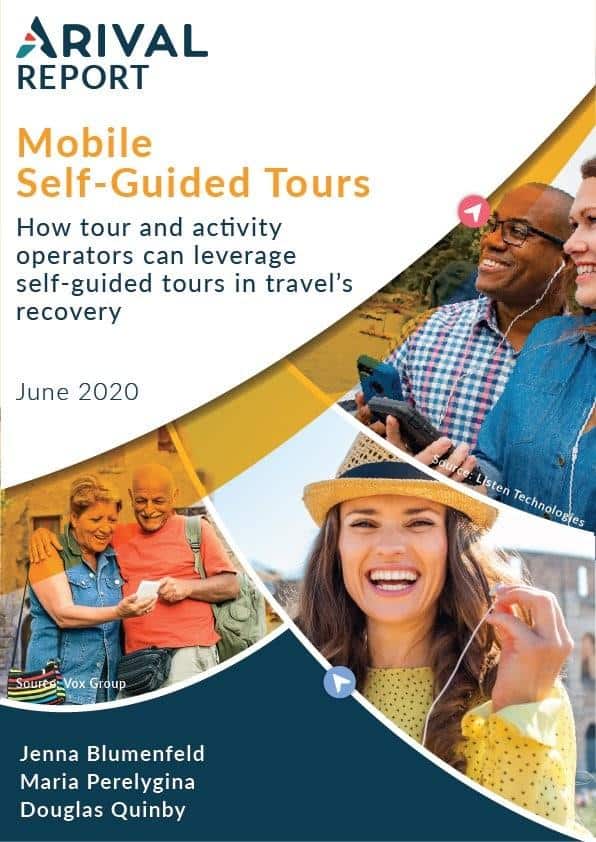 Summary
Mobile self-guided tours, prepared smartphone itineraries that help travelers navigate a route or attraction on their own, offer increasingly sophisticated ways for independent travelers to explore destinations and cultural sites on their own. 
There are at least 30 companies around the world that provide self-guided experiences, and many work with operators to help them create and offer their own tours. This new Arival Report on the self-guided tour landscape examines their role and potential impact in our industry and helps operators decide if they should consider adding self-guided experiences to their product mix.
Who should buy this report?
Tour operators, attractions, online travel agencies, and DMOs that want to

understand the role and potential impact of mobile self-guided tours in the in-destination industry

Implement (or who are considering) self-guided experiences

OTAs, technology providers, and startups seeking to add self-guided tour products or platforms, fine-tune their current strategy and understand the competitive landscape
This Arival Report examines the self-guided tour marketplace, the traveler use cases, and the opportunity for operators. This guide explores whether operators should consider offering such experiences, and also provides a list of more than 30 organizations currently offering self-guided tours.
Research Highlights:
Self-Guided Tours in the Recovery & Beyond

What Are Self-Guided Tours?

The Traveler: Why SGTs

A Post-COVID Necessity?

Beyond the Rebound: Independence & Flexibility

SGTs: Friend or Foe?

Traveler Use Cases for SGTs

Who's Who in the Self-Guided Market?

Technology Solutions

"Traditional" Self-Guided Tours

Pricing Models

Self-Guided Tour Providers