Return to Research
Experience Revolution – Size & Structure of the Global Operator Landscape (2020)
Market Structure, Size & Forecasts for the Global Tours, Activities and Attractions Sector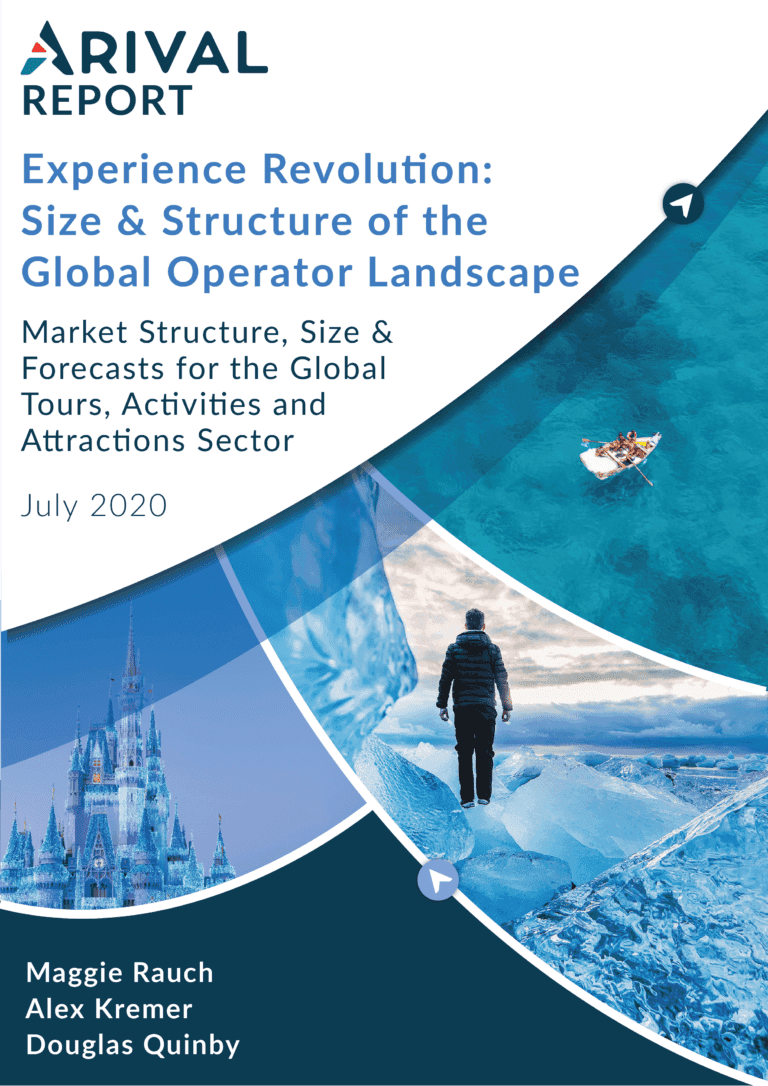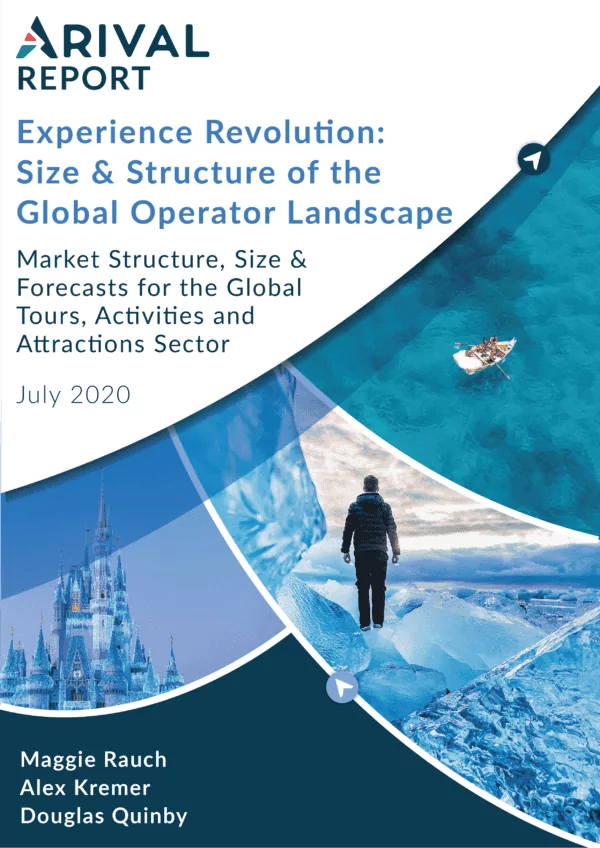 Summary
The in-destination industry – tours, activities, attractions, events, and experiences – has been undergoing enormous change. Over the past decade, the digital revolution that has transformed most of travel has now swept through travel's third-largest sector.
Arival's
Experience Revolution: Size & Structure of the Global Operator Landscape
provides the most extensive, definitive market sizing and structure for travel's third-largest sector. Based on a global survey of nearly 7,000 tour, activity, and attraction operators and extensive data collection on nearly one million businesses, this report provides global and regional market sizing by industry segment and sales channel.  
This report provides in-depth size and structure of the market, with metrics and analysis by
Segment: tours, activities, and attractions

Region: Americas, Europe, and Asia Pacific

Sales channel: online and offline, direct and indirect

Number of business locations and gross bookings
Who Should Buy This Report
This report is designed for the following organizations:
Startups

seeking to develop strategic plans and raise capital

Online travel agencies, distributors, technology, and marketing companies

seeking to develop market planning, strategies, and investment priorities

Investors and financial firms

with an interest in the sector seeking insight into market dynamics along with complete market data

Tour, activity, and attraction operators

seeking

in-depth market sizing and performance benchmarks

to raise financing

merger or acquisition opportunities
Report Methodology
To measure the size and makeup of the global tours, activities, and attractions sector and project its future growth, Arival used a combination of online surveys, operator interviews, and online data capture.
Arival created an online survey it fielded along with 50 partners between August and December 2019. The survey fielded in seven languages: English, Chinese, French, German, Italian, Japanese, and Spanish. The survey received 6,780 qualified responses from operators worldwide.
A second online survey was fielded to executives of OTAs, technology companies, marketing agencies, and others serving this industry and received 549 qualified responses worldwide.
Arival conducted more than 20 interviews with tour, activity, and attraction operators on sales and distribution trends, marketing and technology strategies, and other topics. Arival also captured online data on nearly a million establishments (tour, activity and attraction operators and resellers).
Table of Figures:
Figure 1: Total Locations of Tours, Activities & Attractions by Region, 2019

Figure 1a: Total Locations of Tours, Activities & Attractions by Region, 2019, in Detail

Figure 1b: Global Share of Locations of Tours, Activities & Attractions by Region, 2019

Figure 2: Worldwide Locations by Category, 2019

Figure 3: Share of Global Locations & Gross Bookings for Tours, Activities & Attractions, 2019

Figure 3a: Global Locations & Gross Bookings for Tours, Activities & Attractions, 2019

Figure 4: Global Locations & Gross Bookings by Operator Size, 2019

Figure 4a: Detail of Global Locations & Gross Bookings by Operator Size, 2019

Figure 5: Share of Locations & Gross Bookings for Tours, Activities & Attractions by Operator Size, 2019

Figure 5a: Detail of Locations & Gross Bookings for Tours, Activities & Attractions by Operator Size, 2019

Figure 6: Gross Bookings by Region, 2019

Figure 7: Global Sales by Channel, 2019Figure 8: Global Gross Bookings by Channel, 2018-19

Figure 8: Global Gross Bookings by Channel, 2018-19

Figure 9: Online Channel Share of Gross Bookings by Segment & Region, 2019

Figure 10: Global Share of Gross Bookings by Channel for Tours, Activities & Attractions, 2019

Figure 10a: Global Gross Bookings & Share by Channel for Tours, Activities & Attractions, 2019

Figure 11: Global Gross Bookings & Share by Region & Channel, 2019

Figure 12: Four Phases to Recovery

Figure 13: Industry Forecasts to 2022 in Gross Bookings (US$B)