Chris has provided a handy 13 Things This Tour Operator Is Doing to Get Past Coronavirus list, here is what he has been doing to be in the best possible position post-Coronavirus to attract and deliver the best tour business possible.
1) Speaking to experts at this time is incredibly important to position yourself well and make informed decisions. 
I took advantage of Peter Syme's free advice. Peter is the Managing Director, 1000 Mile Journeys and a top bloke on the tours and activities industry, and what to do now. He is brilliant and giving his time and advice for free!
2) Another top man to speak with is Josh Oakes of the Sunshine Tribe. He provided guidance on what to do now and in the future. 
If you have time, I recommend reading his in-depth 5-step plan, alternatively, Arival have provided a summary of his plan: Navigating a crisis: A 5-step action plan for tour business owners
3) To prepare for upcoming sales, I've worked with my developer to make the Typically Swiss Tours website more impactful.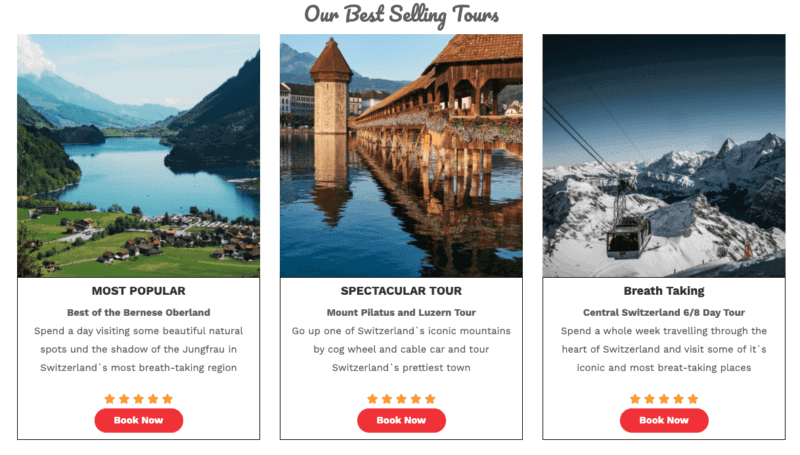 4) Next, to get our marketing plan together I've been using two resources that are offered for free by Chris Torres, Lookers into Bookers and his tour operator battleplan to fight against Coronavirus.
5) The general advice here; Read everything you can to learn about our industry and how your brand can grow. 
6) The hardest part of my day is refunding customers 100% and speaking to them about the future (and this isn't easy).
7) To stay relevant and provide content for when the industry picks up, I've been investing time in posting about Switzerland, follow us on Facebook to keep us motivated.
8) Maintaining my marketing spend of $500 per month to ramp up my SEO (search engine optimization), so that I am very findable when travelers start shopping again.
9) One of those things I always said I'd do later… Going through my photo data and organizing, cleaning, and optimizing. 
10) As part of my new sales strategy, I am now looking at joining various OTAs to increase my exposure. Hopefully, you'll be seeing Typically Swiss Tours on Expedia, ToursByLocals, and other Online Travel Agencies (OTAs) soon.
11) Speaking to as many tour operators around the world to learn, connect, and also help. So far I've made great contacts with people from Italy to Tasmania.
Join Arival Connect to network and help others in the tours, activities, and attractions community. 
12) Keeping fit, staying healthy, and maintaining distance from others.
13) Anxiously awaiting news of when Arival Berlin will be rescheduled.
Arival says: We're working away on this, Chris. Stay tuned! And thank you for sharing what you are doing to see your business through this tough time.
Chris also shared more about changing careers and his journey into tours on Episode 62 of the Tourpreneur Podcast.