The Covid-19 crisis has brought our sector and the global economy to a halt this year – our world and industry has changed immeasurably. But as challenging as this crisis is, we would be remiss to not act to ensure something good results from it.
By that I mean we shouldn't aspire for things to go back to normal, but to rather redefine what normal means.
We should use this period of travel stagnation to rebuild our businesses more ethically and sustainably, so that our earth is preserved for future generations to explore.
Intrepid is the world's largest adventure travel company and we've been a pioneer in sustainable travel for over 30 years.
Earlier this year, when borders closed and we temporarily halted our global operations, we were forced to stop and reassess. We decided that we would use this period to rebuild as a more responsible, sustainable and resilient business.
We're also looking outwards to the broader industry as we believe this responsible rebuild needs to be a collective sector-wide response. To that end, we've shared the insights and tools that we have developed over the years to encourage other business to emerge from this crisis as more responsible organisations.
The first tool that we've shared is our 10-Step Quick Guide to Decarbonise Your Travel Business. This provides a low barrier way for other travel companies to get started on their carbon journey by offering straightforward steps – from understanding how climate change is impacting your business to developing a carbon management strategy. The guide includes real examples from Intrepid to demonstrate how others can implement similar strategies within their own organisations.


The guide is authored by our own subject matter expert, Intrepid's Environmental Impact Specialist Dr Susanne Etti, who has more than 15 years of experience in sustainability.
Susanne is responsible for measuring and driving Intrepid's environmental performance, as well as developing and implementing a culture of sustainability leadership within our business. We're proud to share this experience and expertise with the broader industry.
I hope you find the 10-Step Quick Guide to Decarbonise Your Travel Business and that you join us to rebuild travel responsibly.
CEO, Intrepid Travel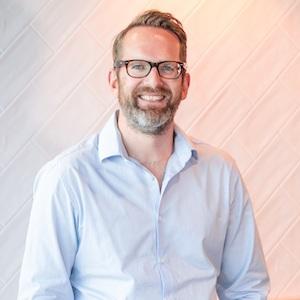 Hailing from the UK, James began his career in asset management before making a career change to join Intrepid Travel's UK office as Sales & Marketing Coordinator in 2005. Over the past 15 years, James has held a variety of senior roles including EMEA Regional Director, General Manager Global Sales, and Managing Director of Intrepid Group. Appointed as CEO in March 2017, James has been instrumental in the growth of Intrepid, focusing on the dual objectives of growing the market for sustainable experience-rich travel and operating a company that balances purpose and profit.
Under his leadership, Intrepid achieved B Corporation certification in 2018 and recorded four consecutive years of record top and bottom-line growth since its return to independent ownership from TUI in 2015. In 2018 James was named Hospitality and Tourism Executive of the Year in the CEO Magazine Awards. He is a member of the Young President's Organisation and the Australian Institute of Company Directors.