Return to Research
Event Horizon (2018)
Arival presents findings on some of the transformative trends occurring in the marketplace, on how, where, and when travelers research and book, and how it's changing.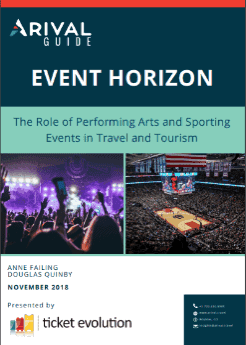 Summary
At Arival we've always said Tours, Activities & Attractions are the Best Part of Travel. But they are also a huge driver of travel. In fact, they are more important to travelers than other components. And it's not us saying that. It's travelers! Nearly two in five U.S. travelers attend a concert or theatrical performance when traveling. One in four attend a professional a sporting event, according to Arival's Event Horizon: The Role of Events in Travel & Tourism. Those events are a significant influencer on the other travel decisions those travelers make. One in three U.S. travelers indicated that events were extremely important in their overall trip planning, more so than any other component of the trip, including the flight and lodging. For many trips, events can play a significant or even a defining role in overall trip planning. Performances and sporting events are date and time specific, often with limited seating capacity. A traveler looking to attend a specific event such as the Indy 500, the U.S. Open, or Coachella plans their trip around specific dates that are announced months in advance. Events such as popular Broadway shows may be sold out for weeks in advance. This means trips for these events are driven by ticket availability.
WHAT YOU WILL GET IN THIS REPORT:
This new Arival Guide, presented with Ticket Evolution, based on a survey of 1,000 U.S. travelers, presents an in-depth picture of events and how they factor into the overall decision-making of the U.S. traveler. Here are three things you'll learn in this report:
The role of events in travel
How travelers plan and book events (the path to purchase)
How travel brands can capitalize on the U.S. event travel opportunity
We've also included each distributor's regional focus and links to their website.