When Ajay Kapoor founded Delhi Bike Tours two-and-a-half years ago, he already had a plan for the future locked in place. "It was all envisioned," Kapoor says. "The moment I built Delhi Bike Tours it was on my mind that this model should be propagated in a lot of areas in India, and maybe beyond."
That model is based on storytelling and a focus on local people and culture. Stories for each of Delhi Bike Tour's three cycling experiences were crafted by amalgamating information from Delhi University history scholars as well as Kapoor's own knowledge of the city as a 25-year resident and the knowledge of other locals.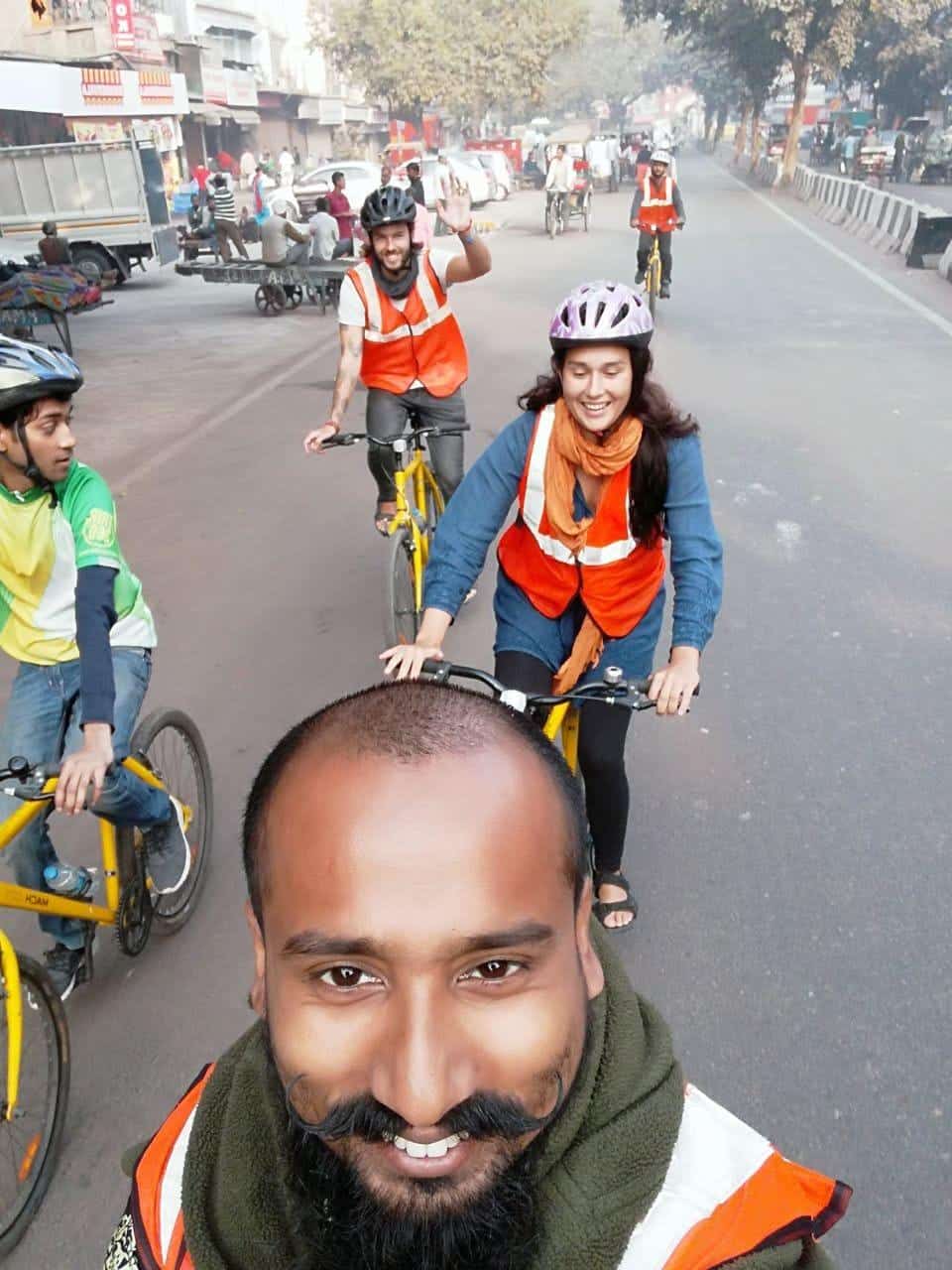 "We have fixed itineraries and stories that are curated with a lot of detail in mind," he says. Current offerings are Old Delhi Cycling Tour, New Delhi Cycling Tour, and Delhi Starry Night Cycling Tour. Each runs under 4 hours and includes components that address the emerging expectations travelers have for day tour experiences—expert guides, small groups, and unique culinary inclusions. Kapoor's tours also wrap around a story.
"For instance, our Old Delhi Cycling Tour tells the story about a mogul emperor who ruled in the 16th century and built various monuments which are located in the old part of the city," Kapoor says. "We've created a whole story around this tour which is delivered in a chronological fashion. Whether it's a food we have or a monument or site or something local that we see, it is all tied up in a beautiful story which is very riveting. The whole tour becomes memorable for them in the form of a story. It's cycle and a story."
Delhi Bike Tours hosts up to 80 independent travelers each month with a team of six people and 30 bikes. The company maintains a contract with a supplier to ramp up quickly to as many as 80 bikes as demand dictates. Tours run primarily in India's winter season, extending from the end of September through March.
The majority of Delhi Bike Tours' customers—between 60% and 80%—are Delhi residents. That has been a surprise for Kapoor. "Most of the business we receive from our website is from a domestic audience who want to try something new," he says. "Domestic travel has been a boon for us, and I never expected it."
International travelers find Delhi Bike Tours from the inbound travel agencies and the international and regional online travel agencies (OTAs) he's partnered with, including Klook, Expedia, Musement, GetYourGuide and Cleartrip.
Kapoor plans to launch his growth plan by adding cycling tours to three cities in India in 2019. "Delhi Bike Tours is a model that will be propagated to 40 to 50 cities with cycling and other types of activities," he says. As the types of experiences offered expand beyond cycling, Kapoor plans to establish Tripper as the umbrella brand for the business.
Here is the story of how and why Kapoor started Delhi Bike Tours, and how he has differentiated himself from competitors.
Ajay, why did you start Delhi Bike Tours?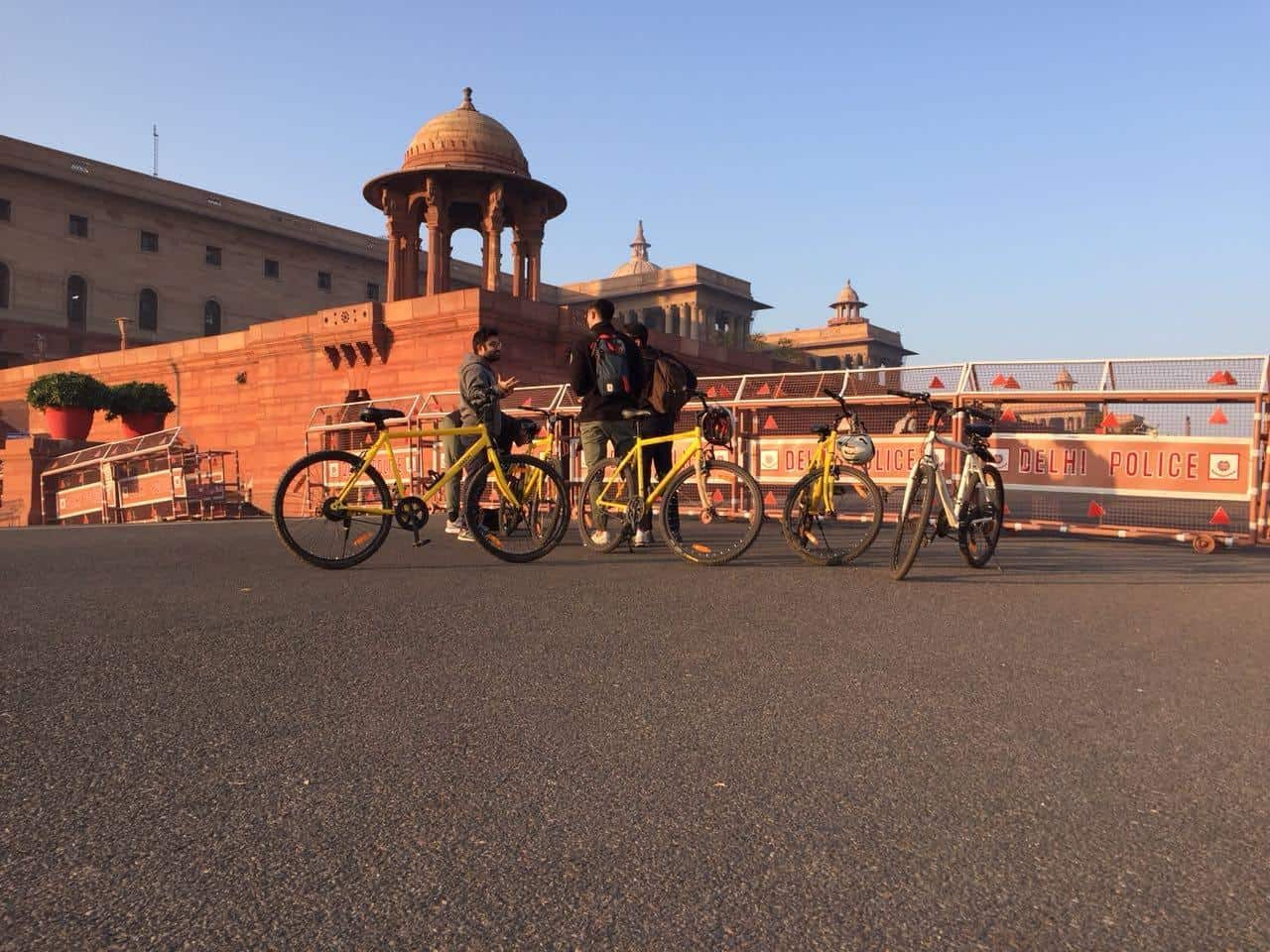 I am a very curious traveler. The challenge I faced when I traveled to different cities is it's very difficult to know a city, to have an immersive experience in a city, in the limited time a traveler has. I wanted to create something that would be available for travelers with a minimum of time, and even for curious local people, to know a city well in terms of the art, history, food and culture. This led to the formation of Delhi Bike Tours.
We gathered a lot of cultural and local and food elements together to allow people to have an immersive city experience and see the local way of life. Then we tied these things into a story which is delivered to people on our bike saddles in a three-and-a-half-hour time frame.
Tell us about the Starry Night cycling experience you offer.
This is where our travelers see the nightlife in New Delhi. The old part of the city is sleepy, it shuts down in the evening, but New Delhi wakes up in the evening. There are pubs and clubs, and long walkways, and it becomes a melting pot of many people coming in from various parts of India. There are different foods, many activities organized by the Delhi government, and the avenues that we cycle around are lit up at night and very beautiful.
Your website promises 'gastronomic delights' and food is a key element in your tours.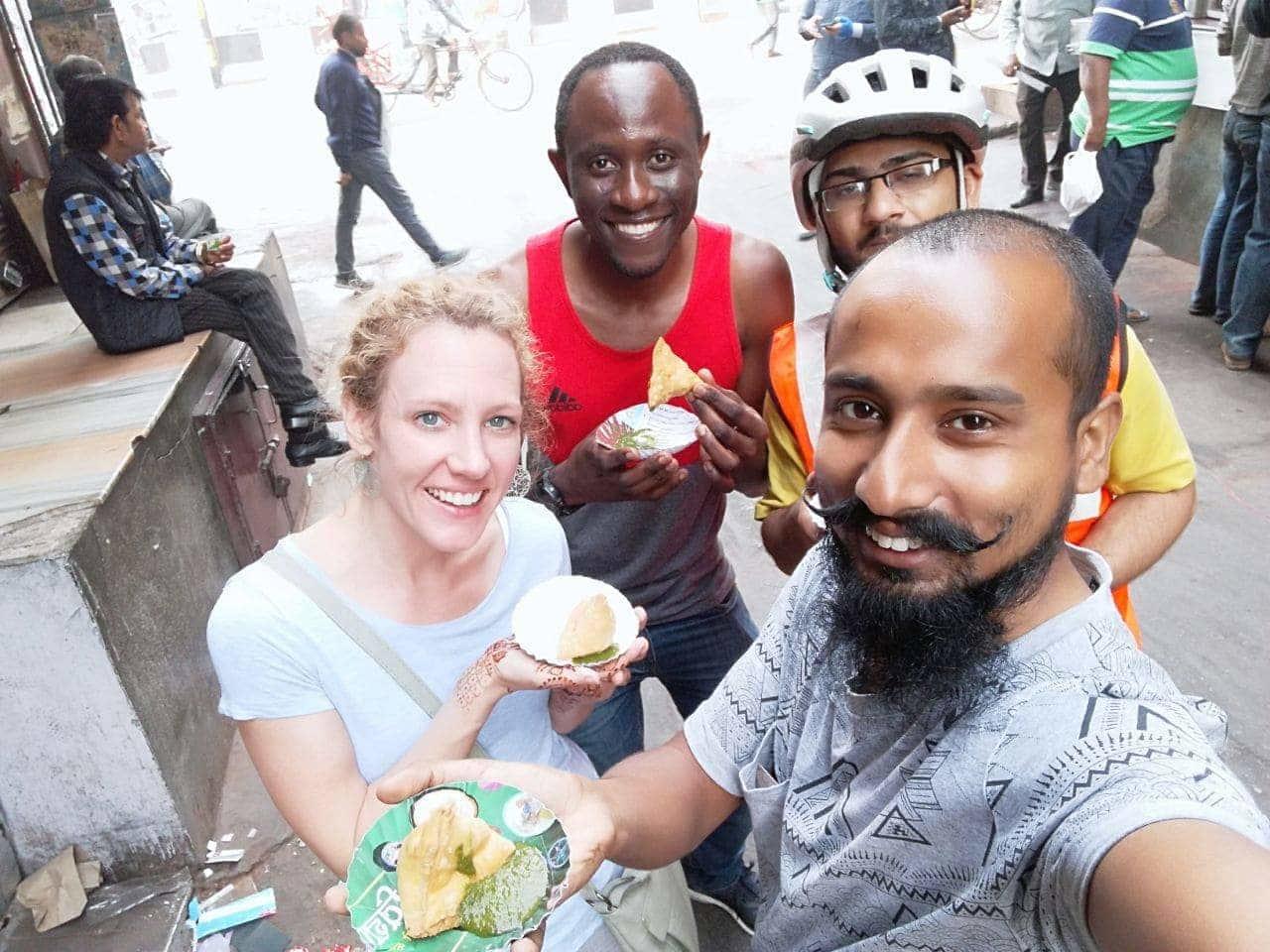 No cycling tour is complete without food. If you burn calories you should gain some too. All of our day tours end with breakfast and the night tours have a midnight munch at various food joints. We always include very local, authentic food into the story because that's what makes the tour complete.
What's an example of a local, authentic food experience you offer?
On our Old Delhi Tour there is a snack shop where four generations have been making typical snacks for the last 160 years. All of our guests have a chance to talk with the operators and also talk to the chefs about their recipes. Breakfast is part of every tour and is always local cuisine in a local restaurant. Food has become an important micro experience within the whole Delhi Bike Tour experience.
You limit your tours to a maximum of eight people. How important is the small size to the overall experience?
The small size is very important. It's about keeping up with and helping each other. Delhi cycling is not straightforward cycling. We don't have cycling lanes so everybody has to care for everybody else. That is rule one. The roads and streets are tiny so we don't want to jam them with a lot of people. It has to be very smooth. Also, in a small group it's very easy for us to relate things, where in a very big group some people get what the guide is saying and some people do not.
Are there any limits on who is best suited to take one of your tours, assuming they know how to ride a bike?
Anyone can cycle. Our youngest guest was three years old, and did the tour in a baby seat, and our oldest was a British couple in their late 60s.
The air pollution and traffic in Delhi are well known. How do you deal with that?
We start our tours early in the morning, at 6.30, as most of the particulate matter has subsided during the night. If guests are still uncomfortable we have air masks for them. Starting the tours early is also the solution for the traffic. When it comes to Delhi and India in general, traffic is part of your life. The moment I start my tours I tell my guests, everybody please embrace chaos, that's the only way you can do this. That's the fun part of it.
A large percentage of your customers are local residents. Why is that?
More and more of the domestic audience is interested in activities and experiences in their own cities, which was not the case before. Pockets have gotten deeper and the white-collar sector has increased because the economy is booming and the IT sector keeps growing. These people are looking for something thoughtful and meaningful to do on weekends, not just going to a movie. It's a lifestyle trend that I have observed increasing in the last year.
There are a lot of cycle tour operators in Delhi. What is your approach to the competition?
We have differentiated ourselves on the basis of the depth of the immersive experiences we create. Instead of a traditional guide, we do the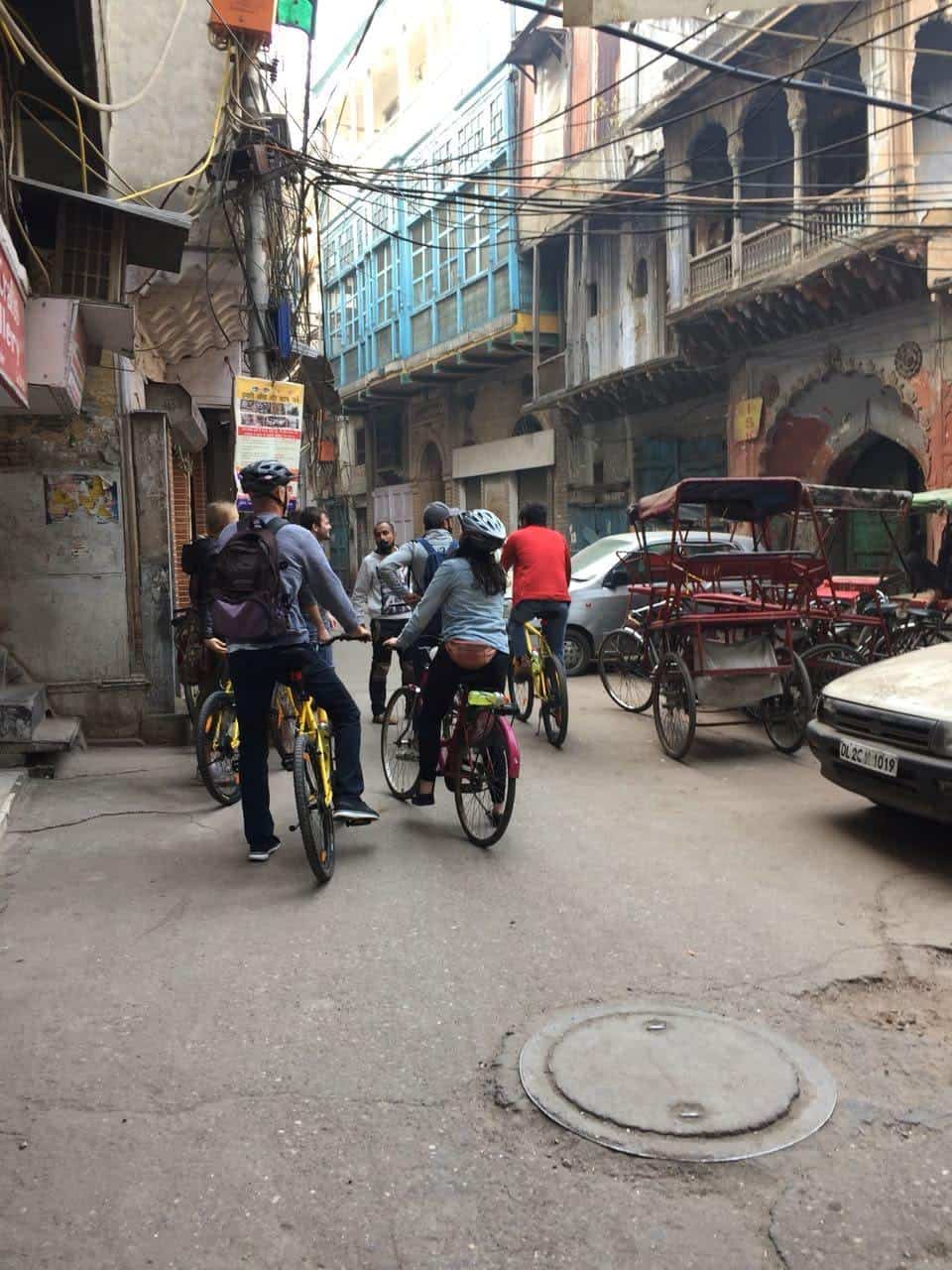 stories. Everything is a story that is beautifully crafted and curated with all the information, knowledge and local ways that we can gather. That is our innovation. That's the disruption we have made to the traditional guide market in India.
What do your customers take away after experiencing a cycling tour with you?
Every guest we receive goes back with a story. It's a story they can tell to all of their friends, and even to themselves, about how they have experienced and traveled into a city that belongs to the 16th century, about the food that they have tasted and the local culture they have gathered.
Our tours also teach people from the West a bit of humbleness. You see a lot of life in the old part of the city. There is a lot of poverty, and you find people who don't have homes, but these people are still so happy and content. Our guests get to talk to these people about their lifestyle and their perspective, and share their own lifestyle and perspective with them. They come to know that we have the greatest luxuries in the West, and these people don't have that here but they are happier. This is the philosophical part of it. So, when somebody leaves from a Delhi Bike Tours experience they feel that life is about traveling and also about living with humbleness."
What do you love the most about what you do?
There is nothing more satisfying to me than bringing smiles to the travelers' faces and also generating some business, some money, for the local people.
Visit Delhi Bike Tours website!
The moment I start my tours I tell my guests, everybody please embrace chaos, that's the only way you can do this. That's the fun part of it.
Learn more about amazing tour, activity and attraction operators—and meet them in person—at Arival Bangkok, June 24-26, 2019. Program information is available on our event website.