Stay at the Host Hotel with Preferred Rates
Centrally located near long stretches of beach and world-class attractions and just minutes from the airport, the newly renovated retro-chic Town and Country Resort is truly the ultimate Arival Event site.  Find your fun at Town and Country Resort, a San Diego icon where mid-century cool and warm hospitality come to mingle. Throughout the resort, every moment brims with sunny possibilities—in modern guestrooms, chef-driven dining, and a sprawling pool complex.
Here, you'll get front-row access to all San Diego has to offer. With a central location in Mission Valley, you're adjacent to luxury shopping and golf, and within minutes of the airport, beautiful beaches, hiking, biking and world-class attractions.
A beloved landmark since 1953, the resort has recently completed a multimillion-dollar transformation, renovating everything from top-to-bottom and adding a host of new amenities.
Town and Country is where business relationships have been forged, friends reunited, new memories made. The resort will sell out, so get your room reserved now!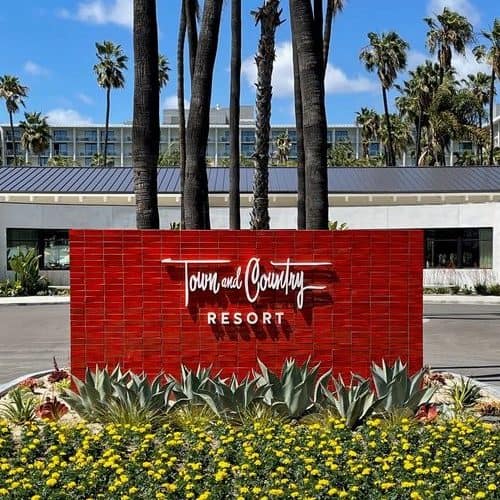 Top of the line resort at a great rate!
With one of the top restaurants in the city, a sports bar, market and lively  lounge areas, three pools, Twister the 4-story waterslide, sand volleyball court, and fire pits, there is plenty of Arival spirit built right in!
Stay at the Town and Country Resort at the highly discounted rate of $179 per night*. Arrive early or stay late and enjoy San Diego. Book your stay at this low group rate from January 27 through February 8.
*(Plus 12.5% tax and $5.00 nightly hotel services charge)
Rooms may be cancelled up to 48 hours prior to arrival for full refund, otherwise one night plus taxes will be charged.
Call 1-800-772-8527 and identify yourself as part of Arival, or click here to Book Online.