Important advice from industry experts about the business of tours, activities and attractions in the time of COVID-19. 
Today we held our first Arival Online live event, Contending with Crises: What Operators Can Do to Get Through It Now. We had nearly 700 registered attendees from all over the world, a flurry of questions, and great discussion among four industry leaders representing the diversity of our industry: tours, activities and attractions.
While the Arival team works away on editing and preparing the webinar to post for on-demand access via video, audio and podcasts, I wanted to share the top 10 questions and takeaways that every operator should be thinking about right now to see their business through the current coronavirus crisis.
Our Speakers: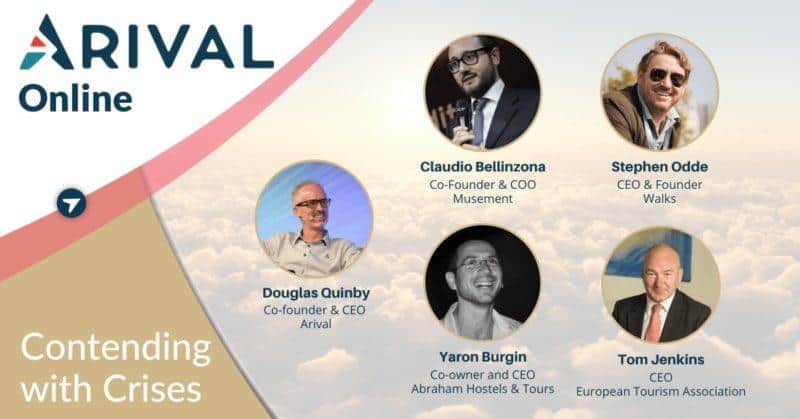 Claudio Bellinzona, Co-founder & COO, Musement
Yaron Burgin, CEO, Abraham Hostels & Tours
Stephen Oddo, CEO, Walks
Tom Jenkins, CEO, ETOA
1. How long will this last? 
No one has a crystal ball, but most panelists agreed the spring and early summer seasons are likely lost. Look to the countries affected first, such as China and Italy. Follow the cycles of the outbreak and the impact on travel and commerce. In China, the spread of the virus appears to be slowing. The best reasonable guess seems to be the softening of official travel warnings by summer, along with a gradual return of demand.
2. How long should operators be prepared for this to last? 
Up to a year. It could take some time for demand to return, given the broader economic fallout from coronavirus.
3. What should operators be doing right now?
Cut expenses. Get ready for an extended period of reduced bookings. Work closely with all partners, suppliers and guides, and work out plans to defer payments as much as possible.
4. What's the best practice for cancellations and refunds?
Now is the time to have a clear cancellation and refund policy, and it's important to put customers first. If customers wish to cancel, try to get them to accept credit for a future booking rather than a refund, and consider adding a bonus on the future credit for added incentive. 
5. Should you be marketing right now? If so, how?
Yaron Burgin of Abraham Tours didn't mince words: "No. Travel is an emotional purchase. Everyone is worried about the pandemic." 
Tom Jenkins of ETOA, agreed: "Right now, there's nothing to sell."
6. Should you cut prices?
Burgin of Abraham Tours urged against it. It only starts a price war that hurts everyone and is hard to dig out of. All panelists agreed, with one addition from Jenkins: discounting will be key to stimulate demand once fears of coronavirus recede. He pointed to the success of tour operators post-9/11 to stimulate travel through deeply discounted packages.
7. What can online travel agencies (OTAs) and distributors do to help? Would they consider a commission reduction?
Claudio Bellinzona of Musement expressed much sympathy with operators, but he noted that the OTAs are in the same tough spot as operators. He said Musement is focused on handling customer cancellation and refund requests with operators, but also said they would be open and flexible to work with operators through this tough period. 
8. Layoffs. Where should you start?
This is the hardest thing for any business owner and manager. Start with a hiring freeze, no bonuses, and other ways to trim expenses as much as possible first. However, layoffs are going to be inevitable in our industry given the impact of coronavirus so far. Look to operations first and avoid cutting sales and marketing if you can, as you'll need them when demand returns. Identify those team members who are most flexible, those whom you know will stick it out with you, and be most valuable when demand returns as you'll need to rebuild your business quickly.
9. How do you maintain staff morale amid the downturn?
Transparency, above all else, emphasizes Stephen Oddo of Walks. "Be honest about the situation with your employees. Give them the same information you have." 
"Also give them beer," adds Abraham Tours' Yaron.
10. What's the last word?
This goes to Tom Jenkins of ETOA: "Everyone's being very sweet and nice, but this is a bloodbath right now, and it's a jungle as well. So you've got a bloodbath taking place in a jungle. I've never seen such a buyer's market, and in those times, whoever can make that sale, earns every penny that they make. It's not a matter of cutting commissions—it's just the opposite." Indeed, would you be willing to pay a little more commission for more sales during a downturn? 
A big thank you goes out to our panelists for participating in the online event. Check out the full program at Arival Online and subscribe to our email newsletter to stay up on the latest developments of the coronavirus outbreak and its impact on our industry.